Investing in a house flipping business involves great risks. Not only is it costly to get started in the first place but it brings along the complexity of dealing with taxes, purchase and repair costs.
This often intimidates real estate investors – and that's a shame considering the lucrative nature of the business.
This is where house flipping investment groups come into the picture. When you're starting out on your house flipping journey, joining an investment group is the key to keeping your anxiety at bay while learning from the experience and wisdom of experienced investors.
How Do House Flipping Investment Groups Work?
Typically, in a house flipping investment group, the members put their money together and make combined investment decisions. The basic foundational element of these groups is a partnership. All members in the group share a common investment goal i.e. to invest in the lucrative house flipping business.
House flipping investment groups work as a platform for local real estate investors and other professionals, including hard money lenders and some investment companies. Bringing so many experts together presents you with an excellent opportunity to build your network and gives you a chance to collaborate with investors on fix-and-flip deals.
Why You Should Join House Flipping Investment Groups
The primary benefit of joining these investment groups is that you get a chance to connect to expert investors. If you have the capital to take care of the remodeling phase of the property but are looking for a partner to fund its purchase cost, these groups can serve as your savior. You can easily find an investor on an investment group who may be willing to offer the money required for you to buy a property for flipping.
In addition to this, you can get to learn so much regarding the house flipping business when you're surrounded with people who are experts in the field. House flipping investment groups offer a great opportunity to connect and form positive relationships with professionals who you otherwise would never get a chance to meet with.
Where to Find an Investment Group for Flipping Houses
If you're looking for the perfect house flipping investment group, you must know that it requires you to do some serious research and make careful decisions. Ideally, the best way to find the best investment group is by doing a quick Google search for a house flipping investment group in your local area. Searching on Google will also help you come across a few additional, valuable recommendations from expert investors and real estate agents.
Some house flipping investment groups operate on a national level. Two of the most popular names include:
National Real Estate Investment Association (REIA)
The National REIA is a big name in the house flipping investment industry. This non-profit organization has been serving locals for over two decades. Comprising of a number of local investment clubs throughout the United States, this group aims to protect and promote the real estate investment industry.
National Real Estate Investment Club (REIC)
The National REIC is a huge club that offers special discounts and offers to cater to the needs of real estate investors in the U.S.
Questions to Ask Before Joining a House Flipping Investment Group
You would want to join a group that aligns with your investment needs and goals. So, before you take the leap, make sure you ask the following questions to yourself.
Is the investment group set up for networking and education?
Is it a profit or non-profit organization?
How many serious investors are a part of the group?
Do the members have more experience in the business than me or are they amateurs?
How was the performance of the investors of a group over time?
Are there any membership fees or charges?
Joining a house flipping investment group is a big step to take. Therefore, you would want to make sure that you aren't getting yourself into any trouble or hassle.
5 Benefits of Joining a House Flipping Investment Group
By joining house flipping investment groups, you may yield the following benefits.
Expand Your Professional Network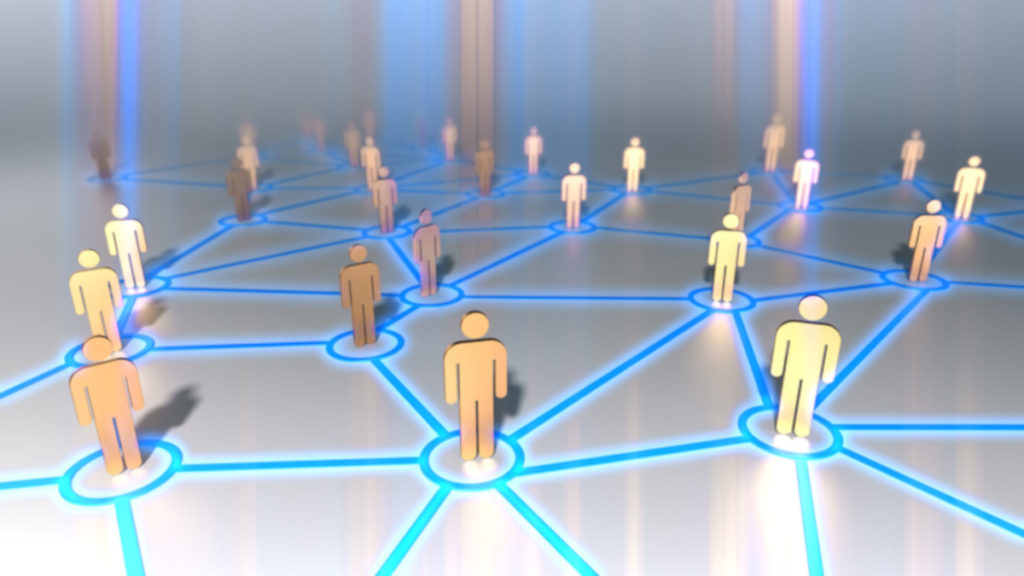 As mentioned earlier, being a part of a house flipping investment group allows you to connect with several people who are experts at house flipping. In the group meetings, you'll get a chance to learn about the current happenings in the local real estate market. In addition to this, you can learn a lot from professionals who have succeeded in house flipping investments. This will help you evaluate and refine your goals and ensure that you're on the right track.  
Get Financial Assistance
As a beginner, investing in a house flipping project may be a bit challenging. It isn't easy to find money to flip a house when you've no previous experience and not so impressive credit history.
Banks may be reluctant in lending money to investors. Being a part of an investment group will allow you to benefit from some tried and tested tricks to get your loan application approved. Apart from this, you may come across an investor within the group who is ready to cover the cost of the purchase of a property that you want to flip.     
Sell Flipped Properties Faster
When you're a part of a large group that has connections in the local real estate market, you find it easier to find a buyer for the property you've flipped.
Selling the property quickly is one of the most crucial elements when you're working as a house flipper. If you flip a house only to see it sitting on the market wasting your time and money, you'll get disappointed. House flipping investment groups can help you with the fast sale of your property.
Learn About House Flipping Laws
It is essential that you know and understand the local rules and regulations governing your local real estate market. When you're surrounded by people who boast a wealth of experience in the business, you'll become familiar with all the local laws. Furthermore, you'll also get to lay a strong knowledge base regarding the best practices in the house flipping business.
Get to Understand Market Trends Better
When you're a member of a house flipping investment group, you can expect to receive hot tips from experts related to the available commercial and rental properties in the local market.
Moreover, you can get to learn about various market trends and ways in which you can benefit from them in the long run.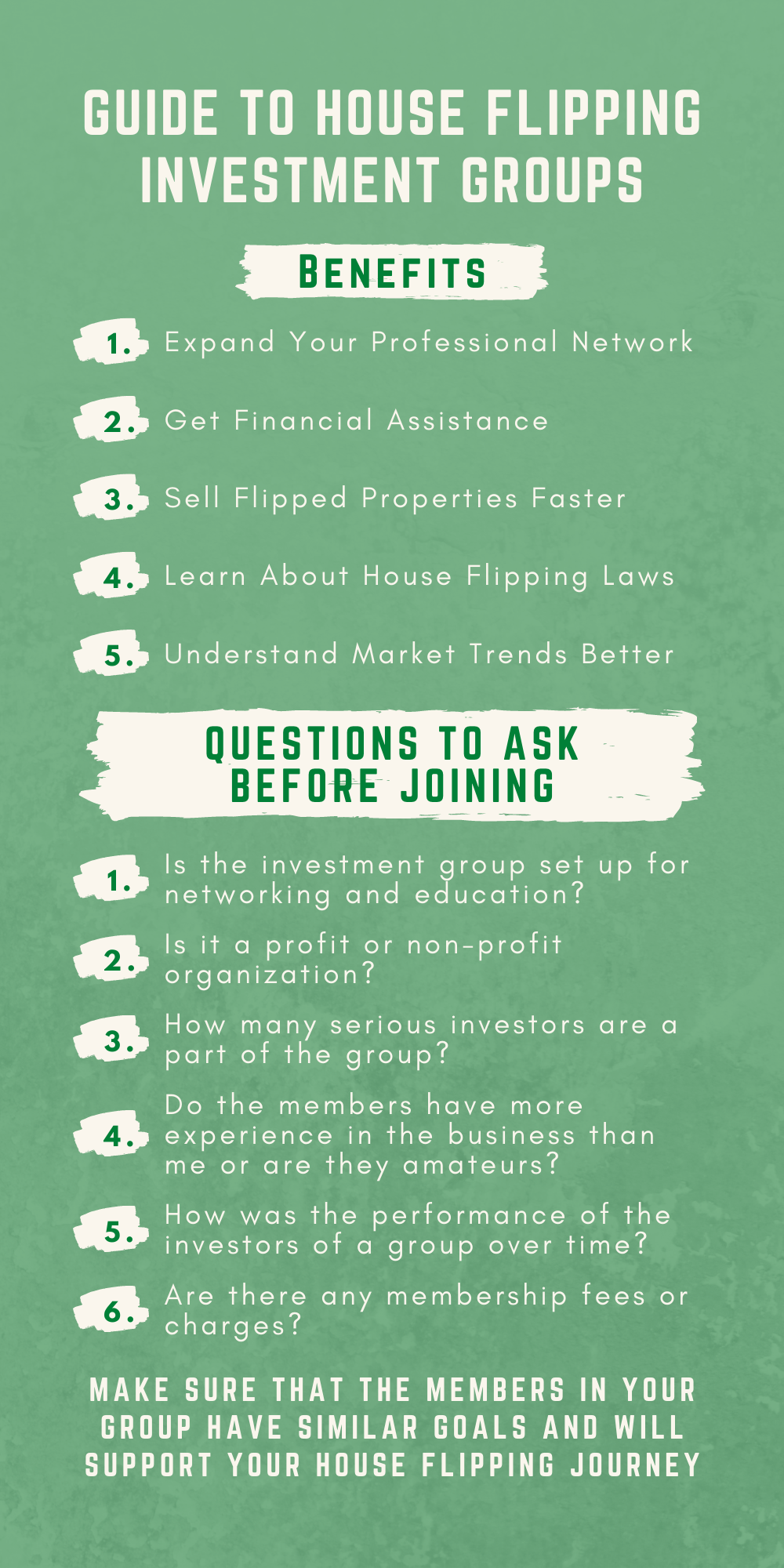 The Key: Join an Investment Group with People Like You
If you're serious about starting a life-sustaining career in the house flipping industry, you should consider finding reputable house flipping investment groups comprised of members who are like you. the idea is to make sure that the goals of the members of your group align with yours.
For example, if you're young and ready to approach the house flipping market with aggressive investment strategies, you wouldn't want to join an investment group for people who are nearing their retirement and thereby, willing to take things slow. Similarly, if you're someone who doesn't like to hold on to a property for long, you wouldn't enjoy being surrounded by people who don't buy and sell frequently.
The bottom line is that you should look for an investment group that is comprised of people who have similar goals as you and who can support you to reach your financial goals by helping you climb the ladder of success with consistent leaps.
Finding house flipping investment groups is a great way to begin your house flipping journey. So, go and search for the best groups in your local area and join them today!
Learn More…
Learn about 6 easy ways to get a loan to flip a house >
Learn more about the National REIA here and National REIC here.