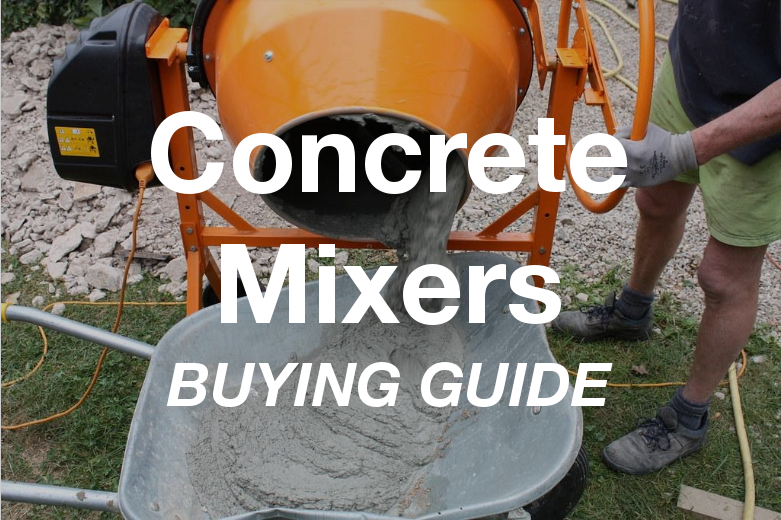 As an Amazon Associate, REFlipper earns commissions from qualifying purchases made through links in this post.
Whether you are working on a foundation, driveway, basement, or hardscaping a backyard, concrete is everywhere in a house renovation project. In this buying guide we will focus on what makes up the best concrete mixers for house renovation and hardscaping jobs.
How Concrete Mixers Work
A concrete mixer is a motorized machine that mixes your cement, aggregate, and water into a consistent solution. Concrete mixers use a revolving drum and blades to mix the elements thoroughly.
For larger jobs, concrete trucks are the go-to option. But for the average sidewalk, patio or retaining wall job, a mobile concrete mixer is a necessity.
Concrete Mixer Designs
Concrete mixers in two different designs: forced mixing or gravity mixing.
In forced mixers, the drum stays fixed and the blades spin separately like a blender.
In gravity mixers, the drum rotates and blades either stay stationary, or move with the drum if attached to the drum walls.
Both designs have their pros and cons, but the most common are gravity mixers because they tend to be simpler, more reliable and less costly.
The Four Components of a Concrete Mixer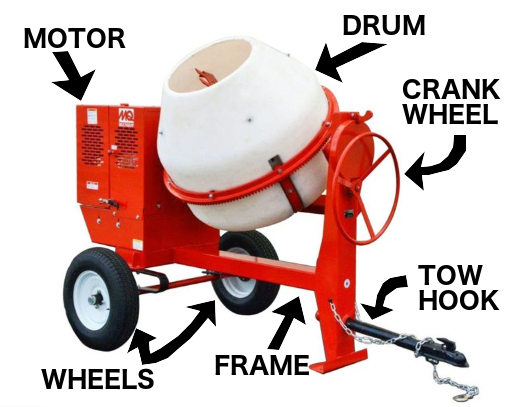 A concrete mixer used for house renovation and landscaping projects is made up of four main components:
1. Drum – Drum size determines the capacity of the mixer. The drum material determines the durability and ease of cleaning.
2. Motor – The motor drives the mixer's rotation speed and velocity. It can be electric or gas-powered.
3. Frame and Wheels – A sturdy frame is needed to house the drum and motor, preferably with large durable wheels for easy movement on rough surfaces and highway travel (if you're pulling it behind a truck).
4. Crank Wheel – Controls the angle of the drum (up for mixing, down for pouring). Crank wheels are found on larger mixers that can't be manually tipped up or down.
Mixer Drum Capacity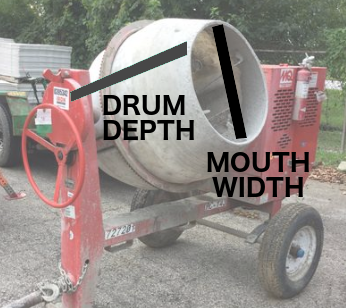 The capacity of the concrete mixer's drum dictates how much concrete you can mix at a time. Capacity is calculated in cubic feet.
When you are mixing multiple batches, the more concrete your mixer can churn out, the less you have to wait for the next batch, and the more consistent your pours will be. This becomes important for large area pours like patios and driveways, particularly in warm weather.
Keep in mind that not all of a mixer's capacity can be used. If you have a drum of 5 cubic feet, you will only be able to use roughly 4 cubic feet of it (normally 80% of the total drum capacity).
Some people measure a mixer's drum capacity by the number of cement bags it can process. Let's say you have a 94 lbs bag of Portland cement; this translates to a volume of 1 cubic foot. If you are combining a usual mix of 1 part cement, 2 parts sand, and 3 parts gravel or stone, per Sakrete's Portland Cement specs (opens PDF in new tab) this will convert to around 4.5 cubic feet of concrete.
Mixing Motor Power
The power of a concrete mixer's motor is crucial because it determines how many times the solution is mixed in a minute. Most concrete mixers for home renovation and hardscaping projects have motors ranging from 1 to 5 horsepower.
A strong and reliable motor is essential because bigger jobs often require a concrete mixer to work for hours and hours. If the motor heats up and slows down when run at full capacity, it can affect your entire job.
It's important not to confuse revolutions per minute (RPM) with power. A smaller, less powerful motor can be "geared up" to spin the drum at higher RPMs, but this puts much more stress on the motor. The motor can also be run at higher RPMs to turn the drum faster. In either case, you'll end up with shorter motor life. What you're looking for is the right level of power for the typical size and frequency of jobs you'll be doing.
Drum Material
The two most common materials used for concrete mixer drums are steel and plastic (commonly called poly drums).
Poly drums reduce the overall weight of the mixer; they are easier to clean because the concrete doesn't stick to the poly material they way it does to steel. But these drums are susceptible to faster wear due to abrasion from the aggregate.
Steel drums usually have much longer life. They are more resistant to abrasion. But they are heavier, harder to clean and require a more powerful motor. On the bright side, with a steel drum you don't have to worry if you need to hammer out hardened concrete that's lodged in the drum.
Frame, Crank and Wheels
The frame of the best concrete mixers are sturdy enough to support the weight of the mixer at full capacity on uneven ground. The frame must be durable enough to last many years riding in or being towed behind a truck. If the frame is flimsy, it can shake and vibrate once you fill the drum with concrete. Vibration will eventually crack the frame and make the components wear out faster.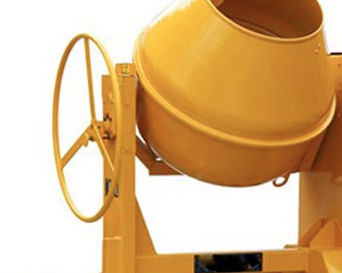 The crank wheel is part of larger mixers. It is used to pivot the drum separately from the frame to pour concrete into a wheelbarrow, ditch or wood form. The crank wheel should be solid enough to handle the weight of a full drum for many years. It should not have sharp edges. A diamond texture on the wheel increases grip when it's wet.
A good concrete mixer should have sturdy wheels with a strong axle and bearings. These should be large pneumatic or solid rubber tires. If the mixer will be pulled behind a truck the wheels and tires must be highway rated.
Gas vs. Electric Concrete Mixers
Concrete mixers for house renovation and hardscaping projects can have either a gas or electric motor.

For small scale renovation jobs, electric mixers are typically enough. They are simple to handle, don't require any additional maintenance, and are easy to put together. However, they do require close proximity to a reliable electricity source or large generator. Electric concrete mixers are ideal for urban environments because they tend to be quieter.
Gas-powered mixers are ideal for jobs where there is no electricity. They allow far more portability and can be used far away from buildings. But they are usually heavier and bulkier. Gas-powered motors require more maintenance and a ready supply of fuel. They are also louder and more harmful to the environment (if you're a green builder).
Mixing Different Types of Concrete
Mixing concrete correctly for the job at hand is critical. The correct ratio of cement, aggregate, and water need to be mixed consistently.
You want the best concrete mixer to cover all your bases:
High aggregate content concrete for driveways and foundations
Smooth mortar for brick walls
Quick drying concrete for cold weather pours and post holes
Crack-resistent cement for patios and walkways
Mixing in dyes, plasticizers and chemicals for specialty design work
The ability to mix concrete quickly and consistently with minimal manual labor the best reason to invest in a good mixer.
Five of the Best Concrete Mixers
Here are our picks for the five best concrete mixers for house renovation and hardscaping projects. We hope these reviews will help you choose the best mixer for your needs.
1. Multiquip MC64SE Electric Concrete Mixer
Starting off our list of the best concrete mixers is a large capacity electric mixer by Multiquip. This fireman-red mixer has a drum size of 6.0 cubic feet. Using the 80% rule, the Multiquip will easily mix up to 4.8 cubic feet of concrete in a single batch.
The Multiquip MC64SE mixer's drum is 29 inches deep, and the mouth is 19 inches wide. The drum is made of sturdy powder-coated steel.
The overall height of the Multiquip mixer is 59 inches. The discharge height (the height the drum pours concrete from) is 23 inches — perfect for pouring into a wheelbarrow or chute.
The mixer is driven by a single-phase electric 115/230 volt 1.5 hp Baldor motor. This motor is known for its excellent quality and long life. It uses a V-drive configuration which isolates the motor from the drum and reduces vibration and noise.
The frame is powder-coated tubular steel, sturdy enough to handle the operating weight of 685 lbs. It uses a single piece cast iron ring gear, which gives it a much longer life than a welded ring.
The mixer rides on heavy-duty 13-inch wheels for maneuverability. These will last you many miles of towing.
You can find the Multiquip MC64SE's spec sheet here.
PROS of the Multiquip MC64SE
1. Large capacity means shorter wait times between consecutive mixes.
2. A multi-position dump latch gives you more control over your pouring options. You can pour into a wheelbarrow standing right by the mixer, or angle the pour to target frame on the ground.
3. Well-built, made to last for a long time in harsh environments.
4. Built-in towing tongue makes transportation easy. The tongue is retractable onsite so it won't get in the way of mixing and pouring.
CONS of the Multiquip MC64SE
1. Very expensive. You should invest in the Multiquip only if you plan to pour lots of concrete for years. This is a contractor-level mixer.
2. Large and heavy, making it harder to maneuver compared to a smaller mixer. You will need a truck to pull it and a decent size spot to park it.
3. Bulky due to the V-drive motor layout. The motor sits away from the drum in its own enclosure. This makes it hard to maneuver into tight spaces and you'll need to pour concrete into a wheelbarrow first on many projects.
2. Imer Wheelman II Gas Concrete Mixer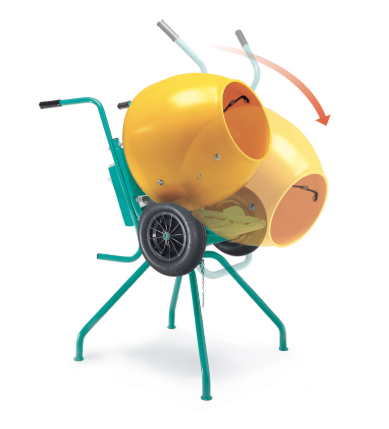 The next contender for best concrete mixer is the Imer Wheelman II. This is smaller mixer designed for lighter jobs, with a 5.0 cubic foot drum allowing you about 4.0 cubic feet of mixing capacity. This small mixer can handle about 275 lbs of concrete.
It's gas-powered by a sturdy 3 hp Honda motor. This powerful little motor allows for a quick mixing time of four minutes.
It's relatively small; thanks to direct drive operation with the motor located just behind the drum. It's also very maneuverable and easy to carry around in a vehicle.
The drum is poly, instead of steel, so it's easy to clean.
It has a low dumping height but comes with an optional four-legged stand that raises the height.
PROS of the Imer Wheelman II
1. Small dimensions and light poly drum and design make it easy to carry around, maneuver and transport. This mixer is ideal for pouring concrete in tight confines and complex shapes.
2. Low profile allows better pouring directly into foundation frames and post holes.
3. It doesn't need an electrical connection, ideal for sites with no power source.
4. Punchy 3hp Honda motor reduces mixing time and the time required to finish your job.
CONS of the Imer Wheelman II
1. Relatively expensive.
2. The gas-powered motor requires maintenance (although Honda motors are very reliable).
3. Lower capacity than larger v-drive concrete mixers. If you are pouring big slabs or large foundations, you will want a larger mixer.
3. Multiquip MC3SEA Electric Concrete Mixer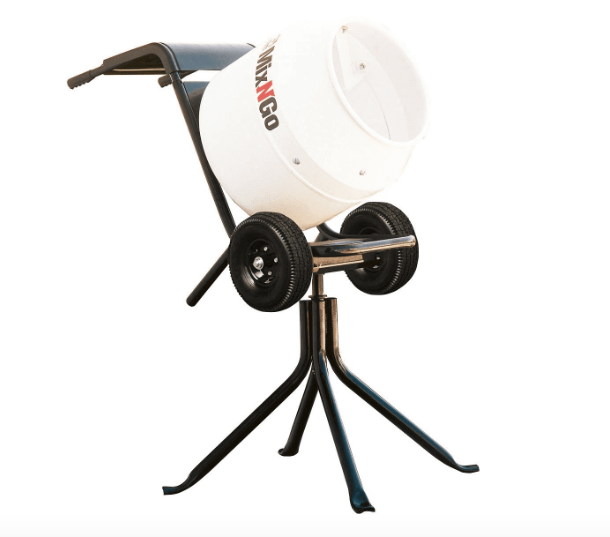 The Multiquip MC3SEA is the smallest drum mixer on this list, with 4.5 cubic foot drum capable of mixing 3.6 cubic feet of concrete.
It employs a 0.75 HP single-phase electric motor capable of 3450 RPM. The pouring height on stand is about 68″.
The drum and body both are made of steel. The drum has two steel blades extending to the base of the drum for effective mixing.
The Multiquip MC3SEA electric concrete mixer has a very maneuverable wheeled design. It can also be used with a stand for a higher pouring angle.
PROS of the Multiquip MC3SEA
1. Very easy to maneuver due to its light weight and compact design.
2. The low profile eliminates the need to pour the concrete into a wheelbarrow first. It can be rolled and concrete poured directly into your forms.
3. It's easy to assemble, even for beginners and DIY'ers.
CONS of the Multiquip MC3SEA
1. Expensive relative to its capacity.
2. Mixer and stand need to be transported separately.
3. Small capacity isn't suited for large pours like long sidewalks, driveways and deep foundation work. This mixer is only suited for smaller fence, yard and slab jobs.
4. Yardmax YM0146 Electric Concrete Mixer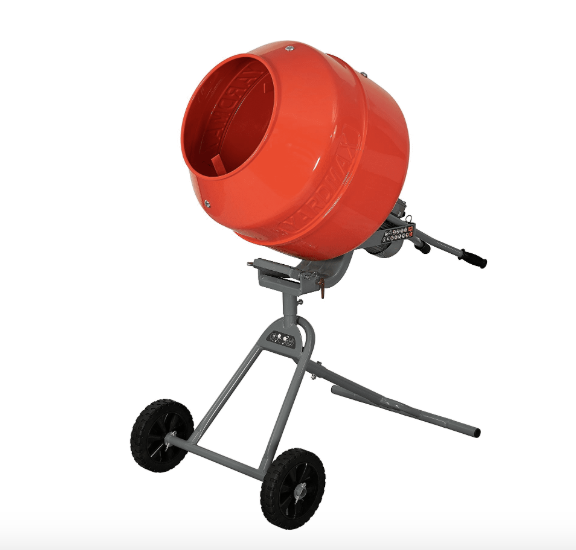 The inexpensive Yardmax YM0146 electric concrete mixer comes with a drum size of 5.0 cubic feet delivering about 4.0 cubic feet of concrete mixing capacity. It has a weight capacity of 316 lbs.
The drum is steel and comes with two steel blades for mixing. It rotates up to 25 RPM. The drum is wash-down rated, so you don't have to worry about using a power washer to clean it up.
The Yardmax YM0146 is effortless to maneuver. The drum frame and supporting/lifting frame are part of the same assembly. This means you don't have to take this mixer apart and relocate the base frame every time you move to a new pour spot.
The electric motor is a small 0.75 HP direct-drive motor. But it's powerful enough for a variety of smaller DIY jobs. The motor and gearbox come pre-assembled, reducing the setup process.
PROS of the Yardmax YM0146
1. Very reasonably priced and great value.
2. Found to have a very long life by most users.
3. Great for working alone. Easy to assemble and operate by one person.
4. It can mix concrete for long hours without stopping or slowing down.
CONS of the Yardmax YM0146
1. Works best when you mix concrete significantly under the maximum capacity. You will need to mix less concrete more frequently. And you'll need to work fast on bigger pours to keep the concrete consistent.
2. The wheels are too small for some surfaces. They can hang up on holes and large debris. You will need a smooth surface or lift the mixer over rough spots.
5. Z Counterform 1800W Double Paddle Concrete Mixer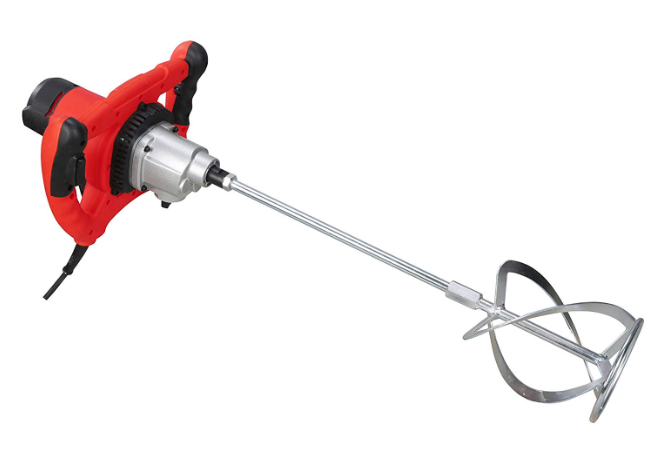 Closing the list is a handheld electric paddle concrete mixer. This small mixer is an ideal machine for the many small jobs required on house renovations and landscaping projects. We feel the Z Counterform 1800W deserves a solid spot on this list.
This little handheld concrete mixer is a powerful beast with a 1800 watt electric motor. It can easily mix concrete up to 60 lbs in a bucket, trash can or other small container.
The Z Counterform mixer has two blades that rotate in opposite directions. The allows better mixing of concrete and helps prevent the bucket from spinning (an annoying problem with handheld mixers). Two gears drive the blades at 450 RPM or 790 RPM.
This mixer is super rugged, strongly built and very fast to mix containers of concrete, grout or other materials.
PROS of the Z Counterform 1800W
1. Reasonably priced for such a powerful mixer.
2. Easy to transport and fit into small places because of its small size. You can use this anywhere, including bathrooms, basement corners, and detailed hardscape projects.
3. Gets small jobs done in a fraction of the time a normal drum mixer or hand-mixing would take.
4. You can basically mix anything — concrete, grout, mortar, paint, giant vats of rice pudding, chili at this Summer's cookoff, etc.
Cons of the Z Counterform 1800W
1. You have to stand and hold the mixer with two hands, which keeps you occupied during the mixing process. Larger batches of concrete may take two people.
2. The shafts are a bit short, so you may have to bend down to do the mixing.
3. This mighty mite doesn't work for big batches of concrete, obviously. It's an add-on for your smaller jobs.
And the Winner Is…
Depending on your needs, any of these five concrete mixers could be the winner.
The big powerful Multiquip MC64SE is your best bet if you're planning to do lots of larger projects like foundations, sidewalks, driveways or patios.
The mightly little Z Counterform 1800W is our best concrete mixer pick for small bucket loads of concrete, grout or mortar. It's perfect for little jobs like tile work, patching garage floors, brickwork, small steps — anything that requires small batches of concrete.
Our pick for the best concrete mixer for general house renovation and yardscape projects is the Imer Wheelman II Gas Concrete Mixer.
The Imer Wheelman II concrete mixer has solid capacity for most renovation and outdoor concrete jobs. The poly drum is easy to clean. This mixer is simple to maneuver, and the 3HP Honda motor will last forever.
If you operate the Imer Wheelman II according to the manufacturer's instructions, keep it clean, and don't overload the motor, it will last you a long time.
For most home renovating and hardscaping jobs, the Imer Wheelman II is one of the best concrete mixers on the market.
Final Tips on Using a Concrete Mixer
No matter which concrete mixer you choose for your home renovation or hardscaping projects, there are a few tips you should follow.
1. If you are not using a premade concrete mix, make sure you know the ratio in which you are mixing aggregate and cement. Different concrete ratios are best for different jobs.
2. Clean the mixer as soon as you can before the concretes dries. Chiseling hard concrete off a mixer is tedious and increases wear and tear.
3. Keep the concrete load a bit under the maximum allowed weight and volume. This will increase the life of your motor.
4. Always start the mixer before loading the drum. Higher starting loads put a lot of stress on the motor.
5. Unless required otherwise, try pouring in this sequence: Gravel, cement, sand, and water.
There are just a few good practices that will help extend the life of your concrete mixer and keep it working hard, instead of giving out in the middle of a job.