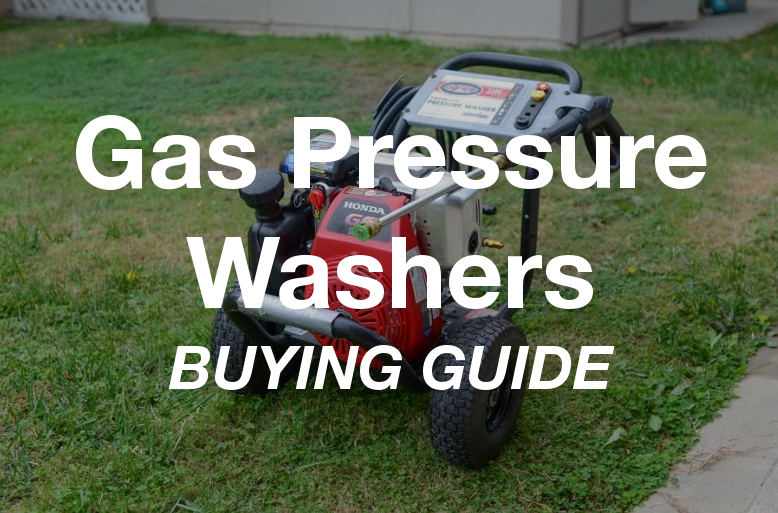 As an Amazon Associate, REFlipper earns commissions from qualifying purchases made through links in this post.
In this buying guide we dive deep into how gas pressure washers work, what to look for when buying one, and review five of the best gas pressure washers on the market.
Potential buyers and renters judge a house by its exterior. Unfortunately, the exterior of an investment property is the victim of the elements. Even if rain or snow doesn't cause visible decay, an accumulation of dirt alone reduces a house's curb appeal.
Pressure washing is a simple way to refresh a house's visual appeal (and value). There is no comparison between the time, energy, and results from a pressure wash compared to scrubbing with a brush and hose.
In a Hurry? Here Are 5 of the Best Gas Pressure Washers…
In our research we found the 5 best gas pressure washers below. They have awesome reviews from hundreds of real-life users. These have been put through the grind of everyday power washing jobs on everything from cars to major construction sites. Depending on your needs, this list is a great place to start.
| Pressure Washer | Image | Verdict | PSI / GPM | Our Rating | |
| --- | --- | --- | --- | --- | --- |
| Shark BG-304037 | | High power, heavy duty commercial grade for a premium price | 4000 / 3.0 | 4.7 / 5.0 | Buy on Amazon |
| Dewalt 60605 | | Powerful grizzly bear of a washer, our top choice for contractors | 4200 / 4.0 | 4.9 / 5.0 | Buy on Amazon |
| Pressure Pro E3027HG | | Great for all-around house renovation cleaning projects, outstanding quality | 2700 / 3.0 | 4.5 / 5.0 | Buy on Amazon |
| Simpson PS3228 | | Our top choice for all-around and DIY house renovation cleaning jobs | 3300 / 2.5 | 4.7 / 5.0 | Buy on Amazon |
| WEN PW3100 | | Lightweight and value-priced, good for basic cleaning jobs | 3100 / 2.5 | 4.2 / 5.0 | Buy on Amazon |
Gas Pressure Washers
The terms "pressure washing" or "power washing" are used interchangeably to describe basically the same thing. Pressure washers can be electric power washers (click for our buyers guide) or gas pressure washers. We focus on gas-driven washers here.
How Does a Gas Pressure Washer Work?
Think of a gas pressure washer as an advanced and very powerful hose sprayer.
The working principle of a gas pressure washer is simple. You attach a water hose/pipe to the inlet. An internal combustion motor drives a pump which accelerates the flow of water. The water is then compressed (increasing it's pressure) and expelled through a very small nozzle.
This creates a highly pressurized jet capable of cleaning dirt, mold, mildew, slime, and even oil off of hard surfaces. This is similar to the effect you get when you use your thumb to clamp down a hose's opening to increase the pressure and range of the spray.
Liquid soap is usually mixed with the water to soak and penetrate the dirt and stains. The soap is injected into the stream of water from a second reservoir.
The water jet's spread and pressure are controlled using interchangeable nozzles. These screw or clip on to the end of a hand-held spray wand. The nozzles fine tune the spray pattern and distance. This lets you tailor the spray for blowing dirt out of cracks, washing siding or cleaning equipment.
Why Do You Need a Gas Pressure Washer?
With a gas pressure washer you can quickly and safely wash away mud, paint flakes, oil, leaves, cob webs, and other unwanted detrius from:
Exterior walls, stucco, bricks and siding
Garage floors
Driveways
Patios and walkways
Decks
Railings
Outdoor furniture
Windows and window frames
Gutters
Tools, vehicles and equipment
Trees and shrubs (old branches, leaves, moss and spider webs)
A gas pressure washer is highly versatile and mobile. It can do heavy cleaning jobs typical of house renovation work in a fraction of the time as brush and hose. It requires far less effort. And it uses less water.
If you are repainting a house, a power washer can help prime the surface for you, allowing better paint absorption.
A good pressure washer increases a house's value with minimal investment.
Gas Pressure Washers vs. Electric Pressure Washers

As we discussed in our electric power washer guide, there are some key differences between gas and electric washers:
PROS: Gas Pressure Washers vs. Electric Washers
Gas pressure washers are generally more powerful than electric washers for the same size unit.
Gas washers are more mobile than electric washers. This is important for big house renovations where cord length can be an issue.
Gas washers are not tied to an electrical power source. You don't need the electricity turned on or an expensive generator to provide power.
In terms of life span, gas pressure washers take the cake. With proper maintenance they typically last and run reliably for many years.
CONS: Gas Pressure Washers vs. Electric Washers
Gas pressure washers are more expensive than electric washers.
Because they have a bigger motor and onboard gas tank, gas pressure washers are heavier and more bulky than electric washers. This makes them harder to lift and transport.
Gas motors require more maintenance than electric motors. You need to keep them fueled, change the oil and air filter, etc.
Gas motors are noisier and create pollution (a factor if you're working at night or in a dense neighborhood, or you're more eco-friendly).
Things to Know Before Choosing a Gas Pressure Washer
There are a few key things that will help pick the best gas pressure washer for your needs.
Water Pressure (PSI)
Pressure measurement is first thing to understand. Gas pressure washers are rated based on the water pressure they can produce. Water pressure is calculated in Pounds Per Square Inch (PSI).
How much PSI you need depends on the types of jobs you plan to do. You might only need 1200 PSI for cleaning windows, siding and hardscape. But for oil stains on a driveway you might need 3000 PSI to drive soap into the concrete and lift the oil out.
Flow Rate (GPM)
Just as important is the flow rate of the water coming out of the nozzle. Flow is measured in Gallons per Minute (GPM). This indicates how much water is exiting the nozzle of your washer as you're spraying.
A straightforward way to understand GPM it is in terms of mass. More mass of water might be better for some stains (like heavy mud or moss) than more pressure. More pressure (PSI) is needed for hard and sticky substances like paint flakes and grease.
Cleaning Power (CP)
Flow rate and pressure multiply each other to get the real measure of cleaning capability — Cleaning Power (CP).

People sometimes ignore GPM and base their buying decision on PSI alone. This is a mistake. You should always buy the pressure washer that produces the right amount of total Cleaning Power, with the right PSI and GPM, for your specific needs.
Pressure Washer Nozzle Selection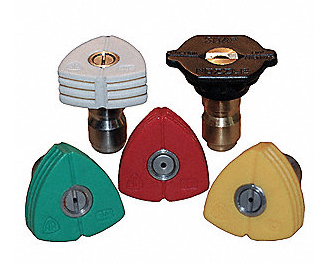 Pressure washer nozzles usually come in five angles: 0-degree, 15-degree, 25-degree, 40-degree, and 65-degree. These have a single angle per nozzle. Some manufacturers offer an additional adjustment you can make without changing the nozzle. Nozzles either screw on or are quick-release.
As nozzle angle increases the water spreads out more and PSI at the washing point decreases. Likewise, as nozzle angle decreases, pressure and washing power increases at the washing point.
Soak Tips: 40- and 65-degree nozzles are the lowest pressure with wide spreads. These are good for washing away dirt and mud, and soaking caked-on grime with soapy water.
Blow Away Tips: 15- and 25-degree nozzles are great for lifting and blowing away heavy or hard substances. Examples include moss, mold, leaves and old paint. They are also good for cleaning grid, slats, joints, and outdoor furniture.
Penetrator Tip: 0-degree nozzles create a narrow high-pressure point. This is what you use to lift and chisel away grease, oil, hard paint, old wasp nests, etc. You can get into any crevice. The narrow tip shoots long distances, which can help reach high walls, eaves, gutters and tree branches.
Five of the Best Gas Pressure Washers
Let's take a look at five of the best gas pressure washers available in the market. We hope this information will help in your buying decision.
1. Shark BG-304037 4000 PSI Gas Pressure Washer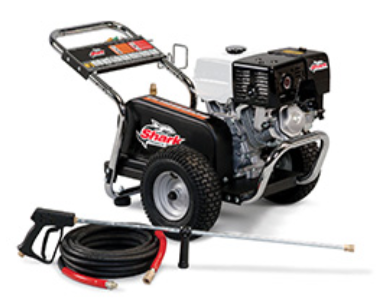 This proven gas pressure washer with the cool name is basically a heavy-duty industrial power washer. This means that it won't have any problem blasting away dirt and stains from the exterior of a house. It's built to last.
The powerful 13 horsepower Honda GX engine sits on a rugged steel chassis. The industrial-grade engine drives a Kärcher crankcase pump to produce 4000 PSI of pressure. This is enough for any heavy-duty cleaning job.
The Shark's water flow rate is 3.0 GPM. The Shark can blow away tons of mud and gunk in short order.
The cleaning power of the Shark BG-304037 is meaty at 12,000. This is much higher than you get with most electric washers in this size range.
The Shark pressure washer is no lightweight. The whole unit weighs around 250 pounds. You're gonna need a friend's help to lift this thing!
PROS of the Shark BG-304037
1. High cleaning power (12,000 CP) means it can be used to perform a wide range of heavy duty cleaning jobs.
2. Rugged build and industrial-grade equipment promise a long life.
3. The unit comes with a 7-year pump warranty and a proven Honda motor. This pressure washer will probably outlast your truck.
CONS of the Shark BG-304037
1. Very expensive. If you want the Shark's durability you will need to invest significant money.
2. Noisy operation. Prepare for complaints from the neighbors.
3. The 390cc Honda engine is relatively thirsty. Bring extra gas along.
4. It weighs a lot, which makes transporting and pulling the pump unit around a chore.
2. DeWalt 60605 4200 PSI Gas Pressure Washer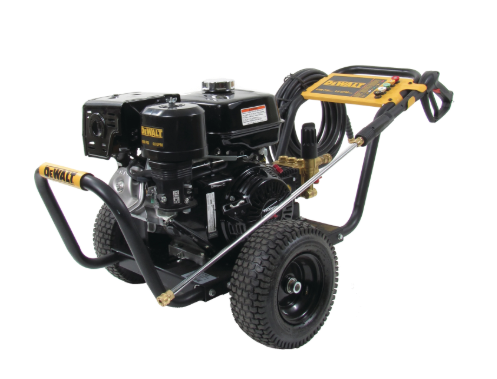 Another heavyweight on our list, the DeWalt 60605 provides a very high pressure rating up to 4200 PSI. It also puts out loads of water flow at 4.0 GPM. The resulting cleaning power of 16,800 makes the DeWalt one mean grizzly bear of a power washer.
The chassis is made of steel, but it is lighter overall at 129 pounds than the Shark washer above. It's an industrial grade unit built to survive punishment for many years.
The DeWalt 60605 gas pressure washer is driven by a Honda GX390 389cc Commercial Series engine turning the pump with a belt. The motor has an electrical start/stop switch. The pump is made with ceramic pistons and is mechanically superior to typical small pumps.
The unit comes with a long 50 foot non-marring hose and five quick-connect spray nozzles.
PROS of the DeWalt 60605
1. Massive cleaning power gives you great cleaning range and speed. You will power through renovation cleaning jobs fast. You can reach high places much easier, reducing the need for dangerous climbs up ladders and scaffolding.
2. Customers find it useful for cleaning a wide range of surfaces, from tile to wood and plaster walls.
3. The Honda engine performs well, even after long hours of operation. It doesn't heat up. The water pressure and output remain stable. It starts right away even if don't run it for long time.
CONS of the DeWalt 60605
1. The wand is uncomfortably long for some cleaning requirements.
2. More safety precautions need to be taken with this washer because of its high-pressure output. It's best to wear safety glasses and a hat to keep debris out of your eyes. Make sure not to spray people or animals directly.
3. Not very friendly for beginners. If you are using it for the first time, watch all the safety videos and read the instructions. It's easy to unintentionally damage soft wood if you're not careful. Start with a wider nozzle and work your way up.
4. Relatively costly. This is a professional level pressure washer and the high cost reflects it.
3. Pressure Pro E3027HG 2700 PSI Gas Pressure Washer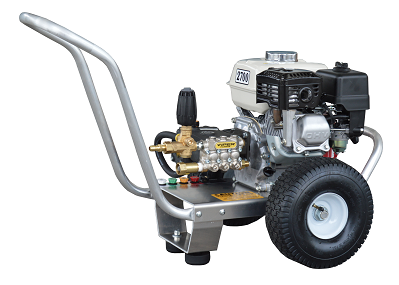 This gas pressure washer is more suited to all-around house renovation cleaning projects. It has a pressure rating of 2700 PSI and a flow rate of 3.0 GPM. This may seem low compared to industrial-grade monster pressure washers. But it's enough for typical exterior cleaning jobs like sidewalks, siding, roof gutter and tool cleanup.
The Pressure Pro E3027HG runs on a 6.5 horsepower Honda Engine cradled in a seamless aircraft grade aluminum chassis. The water pump is from CAT, and it's designed so it won't heat up after extended hours of use. It comes with a CARB compliant air filtration system, making it less harmful for the environment. It can also be used safely in semi-enclosed spaces like a garage or barn.
The Pressure Pro washer comes with a long 50-foot reinforced hose and 5 standard nozzles. The long hose reduces the need to reposition the pump unit frequently, which speeds up cleaning jobs.
You can download the Pressure Pro E3027HG spec sheet here.
PROS of the Pressure Pro E3027HG
1. Relatively lightweight, making it easier to move around and lift into a truck, SUV or van. You shouldn't need a partner to transport this washer or carry it up and down stairs.
2. For all-around jobs it works just as well as more powerful washers.
3. The long hose gives it great cleaning range without dragging around the pump unit. This is great for working around ditches and landscaping.
4. Energy efficient, quiet and CARB compliant = better for the environment and less annoying to neighbors.
CONS of the Pressure Pro E3027HG
1. Users report that it sometimes has trouble building up pressure initially. You may need to give it a few seconds to reach operating pressure before spraying.
2. It doesn't have a built-in soap container.
3. The unloader valve on the washer and chemical suction are challenging to understand without proper instructions. The user manual isn't very detailed on this.
5. Relatively expensive versus competitors in the same class.
4. Simpson PS3228 PowerShot 3300 PSI Gas Pressure Washer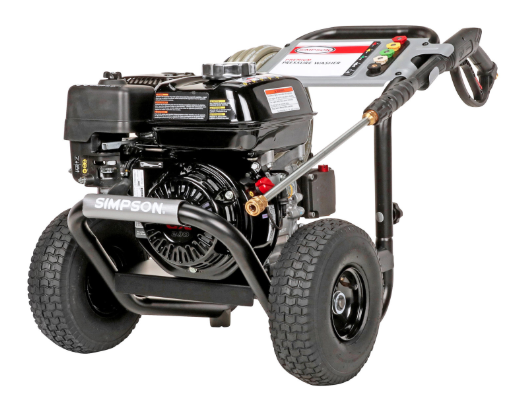 The Simpson SP3228 PowerShot offers a decent max pressure of 3300 PSI. The flow rate of 2.5 GPM is on the lower end.
It's powered by a 5.8 Horsepower Honda GX 200 engine, and features a AAA pump. This AAA pump is supposed to suffer from less wear and tear than a conventional pump and promises a longer life.
The Simpson SP3228 PowerShot comes with a three-year warranty on the engine and a five-year warranty on the pump, respectively.
The hose length is 25 feet, which is shorter than our recommended 50 feet. But 25 feet is enough for small property cleaning jobs. On larger projects you'll need to reposition the pump unit often.
You get a standard set of five spray nozzles with this washer.
PROS of the Simpson PS3228
1. Value priced. You get a lot of bang for your buck.
2. Very energy efficient, saving you fuel costs and reducing the need to carry around extra gas.
3. It can run for a long time. The Simpson PowerShot will operate over 10 hours without any drop in performance.
4. Durable. Most customers report that performance hasn't degraded over years of use.
CONS of the Simpson PS3228
1. Despite its claim to have longer life, some customers have reported issues with the AAA pump.
2. This gas pressure washer is loud and produces a lot of vibration.
3. The pull cord starter is difficult to use for some owners.
4. Some customers have had trouble processing their warranty claims.
5. WEN PW3100 3100 PSI Gas Pressure Washer (CARB Compliant)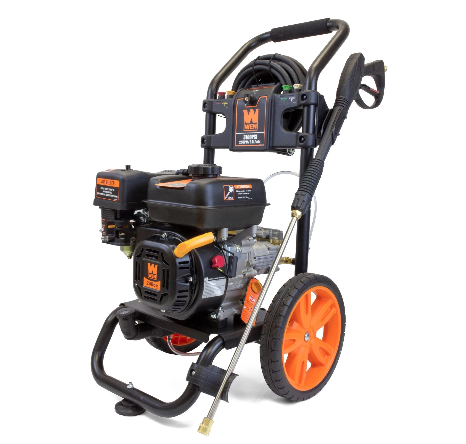 Closing out this review of the best gas pressure washers is a lower-powered, lightweight, low-cost machine.
The WEN PW3100's pressure rating is 3100 PSI with a flow rate of 2.5 GPM. It's also the only washer on this list that doesn't come with a Honda engine. WEN designs and manufactures it's own 208cc engine that's CARB compliant.
This washer weighs only 67 pounds, making it very light compared to many other gas pressure washers. WEN achieves this by using a small motor / pump and plastic components throughout the design.
The WEN PW3100 has a 30 foot hose. It also has an on-board soap dispenser. It comes with the standard nozzle selection. Customers report that the nozzle changing mechanism is relatively easy to operate.
PROS of the WEN PW3100
1. Very value-priced.
2. CARB compliant to reduce air pollution.
3. Powerful enough for most residential uses and vehicle cleaning.
4. Easy to handle for beginners.
CONS of the WEN PW3100
1. This washer is not very rugged. It has plastic wheels instead of large pneumatic tires. This is fine for light cleaning and DIY house renovation work, but not for constant contractor-level usage.
2. The engine starts to heat up after long use. This reduces performance. When the engine heats up it's tough to restart.
3. After a few months of use, some customers have reported the engine is prone to stammering and dying during operation. The WEN motor is no match for a higher-quality (and more expensive) Honda engine.
And the Winner Is…
As you can see from the range of gas power washer we've reviewed, it's tough to pick a winner. The two factors we consider most important for a quality power washer are cleaning power and ruggedness. But these must be considered in the context of the cleaning jobs you intend to do.
Our choice comes down to two best gas pressure washers designed for two different purposes:
Our Choice for the Best All-Around Gas Pressure Washer
We have chosen the Simpson PS3228 PowerShot Gas Pressure Washer as the winner in the all-around category. The Simpson is very reasonably priced and has the versatility to tackle most house renovation cleaning jobs comfortably. It might lack the massive power of a contractor-grade pressure washer, but it's great for most rapid cleaning work.
The Simpson PS3228 has better cleaning power than the WEN PW3100, and the engine is much higher quality. Compared to bigger industrial-grade washers, it is priced much lower. It is also comfortable and safe for beginners to handle.
Our Choice for the Best Contractor-Grade Gas Pressure Washer
Our winner for the best contractor-grade gas pressure washer is the DeWalt 60605 4200 PSI Gas Pressure Washer.
The DeWalt is clearly optimized for heavy duty cleaning work. It features massive cleaning power, with high water pressure and high volume flow. It will readily blow through any substance you want to clean or strip. It's long hose and high pressure gives it impressive cleaning range. The Honda motor is powerful, quiet and reliable.
The DeWalt 60605 is significantly lighter than the Shark BG-304037, making it more mobile and easier to transport. It's not for beginners, but it's built to last through years of abuse.
In Summary
We hope that this best gas pressure washers buying guide and reviews have given you enough information to choose the best one yourself. Armed with your specific goals and the information here, you will be able to select the best gas pressure washer that will serve you well for years to come.