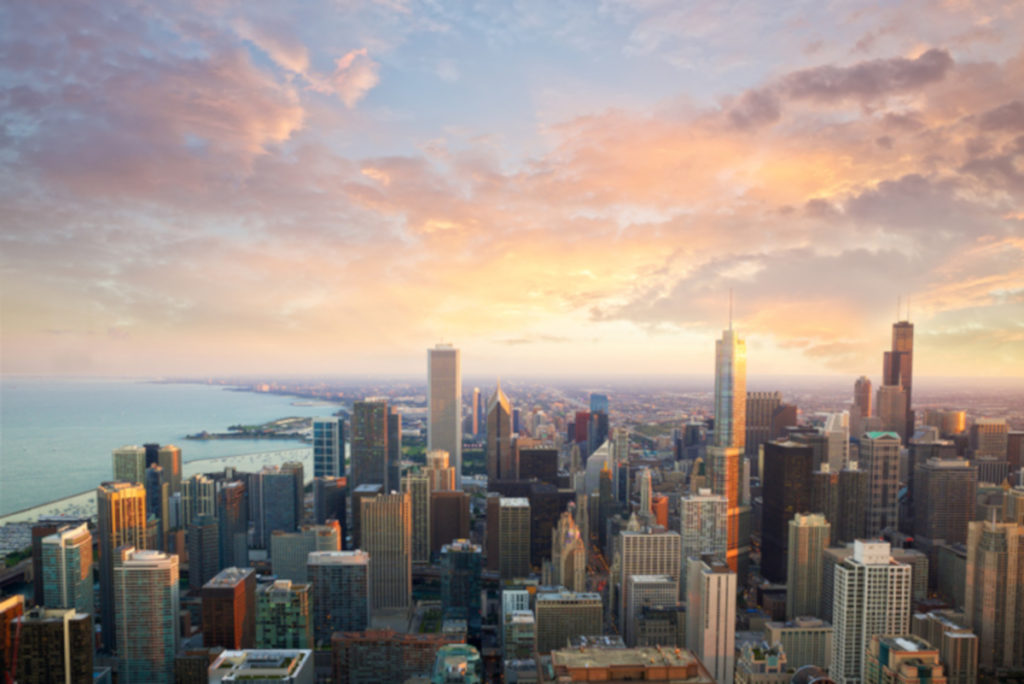 House flipping in Chicago can be lucrative if done right and during certain real estate market conditions. The city has a growing population, many of which are transplants from the rest of Illinois and the nation as a whole. Chicago has a lower unemployment rate than the rest of the state.
With gorgeous summers, and situated on Lake Michigan, Chicago is in a prime location for people who like the coastline and a relaxed but urban lifestyle.
There are many homes that are prime for fixing up. However, home values in Chicago have increased dramatically in recent years, making the market competitive for house flippers.
Key House Flipping Statistics for Chicago
| | |
| --- | --- |
| Population | 2,716,450 and 5 year growth rate of 0.37% |
| Income | Average household income of $68,405 and 5 year growth rate of 6.25% |
| Home Value | Average price of 3 bedroom 2 bath home of $210,000 and 5 year growth rate of 32% |
| Cost of Living | Chicago is 107 vs 100 for the U.S. cost of living index |
| New Home Starts | 17,220 |
Chicago Property Taxes
Cook County
For a home with a median value of 265,800, the median property tax in Cook County, Illinois is $3,681 per year. On average, Cook County collects 1.38% of a property's market value as property tax.
These property taxes in Cook County are some of the highest in the United States due to the level of property values Chicago.
About 5.09% of Cook County resident's income on average is paid yearly as property tax. Cook County is ranked 69th out of the 3143 counties in the U.S. for property taxes as a percentage of median income.
The local tax assessor's office manages the property taxes for the county. Contact the Cook County Tax Assessor to find out the exact amount of a property tax bill
https://cookcountytreasurer.com/
https://cookcountytreasurer.com/setsearchparameters.aspx
DuPage County
For a median home value of $316,900 in Dupage County, Illinois the median property tax paid is $5,417 per year.
Along with Cook County, this county also has one of the highest median property taxes in the country.
The average yearly property tax paid by DuPage County residents amounts to about 5.98% of their yearly income.
DuPage County Property Tax is charged directly on the property and unpaid property tax can lead to a property tax lien, which remains attached to the property's title. This is the responsibility of the current owner of the property. Transferring or selling the property or filing bankruptcy will not not affect tax liens. Property tax delinquency will lead to additional fees and interest, and these are attached to the property title.
If the property tax delinquency is extremely high, the DuPage County Tax Board could seize the property and offer it for sale well under market value at a public tax foreclosure auction.
https://www.dupageco.org/PropertyInfo/PropertyLookup.aspx
Chicago Flood Zones
Flooding in Chicago can be a real threat to homes in certain areas. In 2018 in the Addison area of the city, some flooding occurred, but not near Lake Michigan. Other parts of the city also experienced major flooding that same year.
http://illinoisfloodmaps.org/dfirm.aspx?county=cook
The Illinois State Water Survey provides current and future Flood Insurance Rate Maps:
Also, see the FEMA Flood Map Service Center:
https://msc.fema.gov/portal/search?AddressQuery=cook%20county%20illinois
Or, try the ARCGIS based map:
https://www.arcgis.com/home/signin.html?returnUrl=https%3A//www.arcgis.com/home/webmap/viewer.html%3Fwebmap%3D81aec0a771a043df8819a66f41efda66
Chicago Crime Rate
Chicago has a high crime rate in comparison to the rest of the U.S. Most of the crime is fairly isolated in certain parts of the city. When making your real estate investment decisions, most house flippers and rehabbers should focus on areas with lower crime rate.
| | |
| --- | --- |
| Chicago Crime Rate | 510 crime index versus 280.5 U.S. average |
Chicago Transportation
The CTA, Metra, and Pace are run by the Chicago Regional Transportation Authority (RTA).The Chicago Transit Authority (CTA) handles public transportation in the City of Chicago and some nearby suburbs outside of the city boundaries. The CTA operates an large network of buses and a rapid transit elevated and subway system known as the 'L' (for "elevated"). These rapid transit lines also serve both Midway and O'Hare Airports. The CTA's rail lines are color coded and include the Red, Blue, Green, Orange, Brown, Purple, Pink, and Yellow lines. Some lines offer 24‑hour service which makes Chicago one of the major cities around the world (the other in the U.S. being New York City) to offer rail service 24 hours a day, every day of the year.
Bus
Pace provides bus and paratransit service. This is served in over 200 surrounding suburbs and has some extensions into the city also. Nearly one quarter of Chicago area commuters used public transit.
Inter-city bus service is provided by Greyhound Lines to and from the city. Chicago is also the hub for the Midwest network of Megabus.
Passenger Rail
The Metra is the nation's second-most used passenger regional rail network. It operates an 11-line commuter rail service in Chicago and throughout the city's suburbs. The Metra Electric Line shares its trackage with the Northern Indiana Commuter Transportation District's South Shore Line. This line provides commuter service between South Bend and Chicago.
Amtrak trains run on the Empire Builder route and departs from Union Station in Chicago.
Chicago is one of the largest hubs of passenger rail service in the country.
Bicycle
Chicago's Department of Transportation oversees operation of Divvy. This is North America's largest bicycle-sharing system by total area.
Bicycle transportation is highly seasonal in Chicago due to freezing cold and wind in the Winter. Summertime is very bicycle-friendly, however, and proximity to bike sharing and bike lanes contributes to higher home values.
Airports
Chicago is served by O'Hare International Airport (ORD) is the world's busiest airport measured by airline operations. O'Hare is located on the far Northwest Side of the city. In 2005, the airport was the world's second-busiest by total passenger traffic.
Neighborhoods to Flip Houses in Chicago
Wilmette
Romona Elementary School is highly rated in this are, along with other great public schools. There is a suburban feel, coffee shops and restaurants. Median home value sits around $675,000 and are forecast to grow around 1.5%.
Avondale
Schools in this area are not as good as other neighborhoods in Chicago. Nightlife is strong, but this are is not necessarily good for families. Average sale price in this neighborhood is near $429,000.
Sauganash
In this neighborhood, the median home value is $420,000. Schools are rated near the middle of the scores range, however it is good place for raising families. Nightlife does exist and crime levels are somewhat low.
Forest Park
Median home sales are at around $220,000 for this neighborhood. Public schools in this area are not at a high level, but it is good for families.
Wheaton
This is a great neighborhood for public schools, nightlife, and families. Crime is relatively low for the city also. Home values here are around $330,000.
https://www.chicagobusiness.com/article/20170309/CRED0701/170309871/the-5-most-profitable-places-in-chicago-to-flip-a-house
Hard Money Lenders in Chicago
Foreclosure Auctions in Chicago
Many Chicago area foreclosure auction listings can be found online.
https://www.zillow.com/chicago-il/foreclosures/
http://www.chicagolandauctions.com/
The Illinois Foreclosure Listing Service
Cook County Sheriff upcoming real estate auctions
https://foreclosure.ccsheriff.org/
Cook County Circuit Court Chancery Division
http://www.cookcountyclerkofcourt.org/NewWebsite
http://www.cookcountycourt.org/ABOUTTHECOURT/CountyDepartment/ChanceryDivision.aspx
Cook County Clerk's Office
https://www.cookcountyclerk.com/
Karen A. Yarbrough, Cook County Clerk
69 W. Washington Street, Suite 500
Chicago, IL 60602
Dupage County Clerk's Office
https://www.dupageco.org/courtclerk/
421 N. County Farm Road, Wheaton, IL 60187
Dupage County Sheriff Sales
https://search.dupagesheriff.org/foreclosure/search
Chicago Tax Assessor
Cook County Assessor's Office
https://www.cookcountyassessor.com/
Cook County Property Tax Portal
http://www.cookcountypropertyinfo.com/
Dupage County Property Lookup
https://www.dupageco.org/PropertyInfo/PropertyLookup.aspx
Chicago Zoning
Cook County Building and Zoning
https://www.cookcountyil.gov/agency/building-and-zoning-0
Dupage County Zoning
https://www.dupageco.org/zoning/
Chicago Title Searches
Dupage County Property Lookup
https://www.dupageco.org/PropertyInfo/PropertyLookup.aspx
Dupage County document search
https://recorder.dupageco.org/Search.aspx
Cook County document search
https://www.cookcountyil.gov/search/site
Chicago Building Code and Permits
Dupage Building Projects and Permits
https://www.dupageco.org/building/
Chicago House Flipping Tips
http://www.zchicago.com/blog/tips-for-flipping-houses-in-chicago.html
Do's
Try and pay in all cash to void interest or fees on a mortgage. Returns are above the national average for house flipping in Chicago, and looking for REO or short sales might be key now, because the market has changed since the Great Recession.
Buying dilapidated homes is less common now. Try finding them off the market by having a real estate agent contact the current owners. Also, have a team of inspectors and contractors ready to get started so as to avoid lengthening the timeline to a sale.
Dont's
Perhaps avoid the downtown area due to it being a seller's market. Look for up and coming areas. Also be wary of riskier neighborhoods such as Kenwood or Washington Heights.
What to Look Out For
Look for older homes that can use modern design, appliances, and smart home technology.
Real Estate Flipping and Investing Groups in Chicago
https://www.meetup.com/topics/real-estate-investors/us/il/chicago/
CAREIA
Chicago REIA
Chicago House Flipping Outlook
There are thousands of houses and buildings in Chicago that are prime for fixing and flipping. Chicago is in a prime location with a vibrant economy and a growing population. Home values in Chicago have increased dramatically, making the market competitive for house flippers. However, there are plenty of deals to be had and the long term outlook for Chicago house flippers is strong.
Did you find this useful? If so please share and comment!