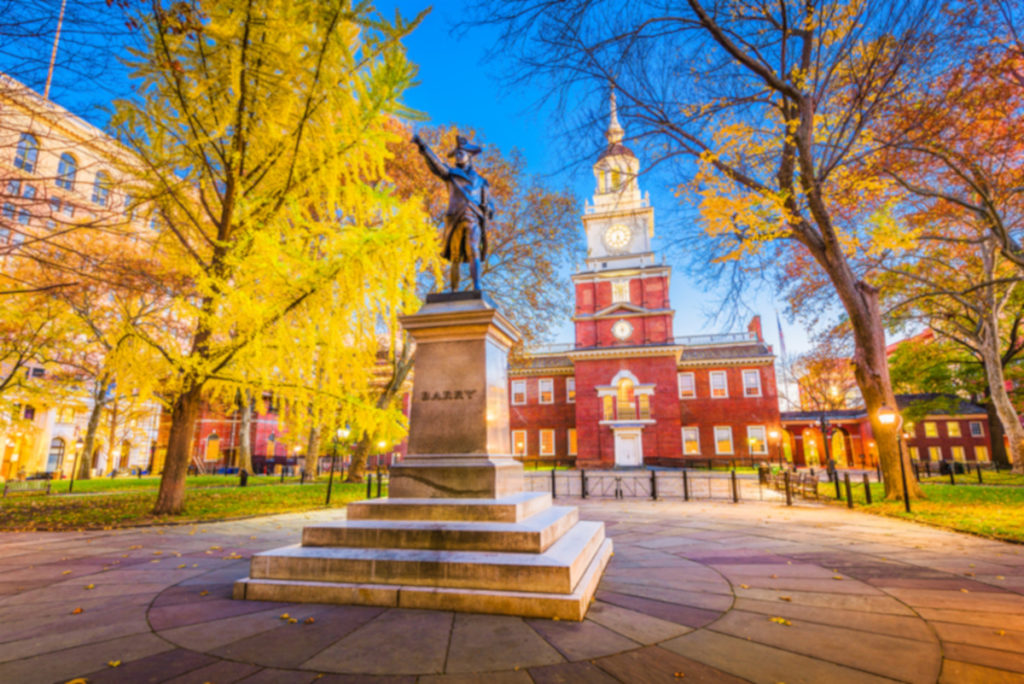 This Philadelphia house flipping guide will help new and active house flippers do business successfully in this city.
Many people continue to move to Philadelphia due to a strong economy from technology, sportswear companies and breweries. With an unemployment rate lower than the national average, and a young and vibrant workforce and jobs that are expected to grow in the future, Philadelphia is an excellent place to invest in real estate.
Income taxes in Pennsylvania may be higher than other states, but sales tax is zero in Philadelphia.
Market supply has been low compared to housing demand, making Philadelphia real estate great for investors.
The overall population of Philadelphia is growing and household income is higher than the national average. Working adults with families continue to buy homes at a steady pace in and around the city. Philadelphia is attractive to retirees looking to buy homes as well.
Philadelphia boasts some very good neighborhoods and school districts, so families can feel great living there. There are also many old neighborhoods that are gentrifying, providing ample fix & flip opportunities.
Ther are plenty of house flipping and real estate investment groups available to learn more about the business and to meet other investors. Overall, investors should not be afraid to flip houses in Philadelphia.
Key House Flipping Statistics for Philadelphia
| | |
| --- | --- |
| Population | 1,580,863 and a 5-year growth rate of 2% |
| Income | Average Household Income of $68,572 and 5-year growth rate of 6.6% |
| Home Value | Average price of 3 bedroom 2 bath home of $159,000 and 5-year growth rate of 49% |
| Cost of Living | Philadelphia is 105 vs 100 for the U.S. cost of living index |
| New Home Starts | 13,388 |
Philadelphia Property Taxes
Philadelphia County
The median property tax in Philadelphia County, Pennsylvania is $1,236 per year. This is for a home worth a median value of $135,200. On average, Philadelphia County collects 0.91% of a property's fair market value as property tax.
The average yearly property tax paid by residents in Philadelphia County amounts to about 2.57% of their yearly income.
A homestead exemption may exist for properties that are the primary residence of taxpayers.
City of Philadelphia Office of Property Assessment
https://www.phila.gov/OPA/Pages/default.aspx
Philadelphia Flood Zones
Pennsylvania DCED Flood Zone Map, Arcgis
City of Philadelphia Flooding
https://www.phila.gov/water/wu/stormwater/Flooding/Pages/default.aspx
Philadelphia Storm Water Billing
Philadelphia Dept. of Licences and Inspections Floodplain Management
https://www.phila.gov/li/Pages/FloodplainManagement.aspx
Philadelphia Region Flood Prone Areas
http://media.philly.com/documents/Area_flood+zones.pdf
Crime Rates in Philadelphia
| | |
| --- | --- |
| Philadelphia Crime Rate | 469.6 crime index versus 280.5 U.S. average |
Philadelphia Transportation
The average amount of time people spend commuting with public transit in Philadelphia, for example to and from work, on a weekday is 93 min.
Philadelphia's public transit system is mainly operated by the Southeast Pennsylvania Transportation Authority (SEPTA)
Roads & Bridges
Philadelphia is connected to New Jersey across the Delaware River by four bridges.
The longest bridge between Philadelphia and New Jersey is the Walt Whitman Bridge, which connects South Philadelphia to Gloucester City, New Jersey.
Buses
SEPTA lists 117 bus routes throughout Southeastern Pennsylvania, with most routes being within Philadelphia.
The City Transit Division runs 76 bus routes (including three trackless trolley routes), and the Suburban Division runs 44 bus routes. In 2009, SEPTA had a fleet of 1153 buses for its City Transit Division, and 262 buses for its Suburban Division.[12]
The Philadelphia Greyhound Terminal is the primary intercity bus station in Philadelphia. Greyhound Lines operates bus rides to an assortment of destinations, including Washington, New York, Atlantic City, St. Louis, and Atlanta. Other private companies which operate from the Greyhound Bus Terminal include: Martz Trailways, Peter Pan Bus Lines, and Fullington Trailways. NJ Transit operates the 313, 315, 317 and 551 buses from the Greyhound Bus Terminal
The discount bus lines MegaBus and BoltBus operate out of the 30th Street Station. OurBus also serves Philadelphia with various stops in the city.
Subways & Trolleys
SEPTA Subway/Elevated in Philadelphia is the third oldest subway system in the United States, having been opened in 1907.
The SEPTA subway system consists of two rapid transit systems which meet in Center City. Five surface-level trolley lines also operate in a shared subway through downtown Philadelphia.
The rapid transit system has a total length of 25 miles with 50 stations.
Trains
The PATCO Speedline is a grade-separated system linking Philadelphia to the cities of Camden, Haddonfield, and Lindenwold in New Jersey. The Speedline has a large daily ridership and is also the main transit link between South Jersey and Philadelphia.
SEPTA's Regional Rail division consists of 13 lines with 153 active stations, totaling 280 miles of tracks.
NJ Transit operates the Atlantic City Line from 30th Street Station to Atlantic City, New Jersey.
Intercity train service is operated by Amtrak. Amtrak runs most services along the electrified Northeast Corridor, serving a string of major cities in the northeastern United States.
Amtrak operates two routes along the Keystone Corridor which connects Philadelphia to Harrisburg and Pittsburgh. The Philadelphia to Harrisburg section can reach top speeds of 110 miles per hour.
Regular service on the Keystone Corridor consists of the Keystone Service, which travels between Harrisburg and Philadelphia. Certain trains travel along the Northeast Corridor to New York after stopping in Philadelphia.
Airports
Philadelphia International Airport (PHL) is the largest airport in the Philadelphia region. Philadelphia International Airport is also the primary international hub of American Airlines.
Neighborhoods to Flip Houses in Philadelphia
Grays Ferry
Grays Ferry has a median home value of $84,206, but has low-quality public schools and not very good crime levels or family environment. It has an urban feel and flippers need to judge whether they can achieve good returns here for the effort.
Pennsport
The median home value in the Pennsport neighborhood is $248,915. However, this area does not have very good public schools. Although it is good for families and nightlife.
Olney
The Olney neighborhood has a median home value of $96,443. This area has good nightlife but is not very good for families, or public schools.
https://philly.curbed.com/2016/3/9/11185044/philly-top-zip-codes-house-flips
Hard Money Lenders in Philadelphia
Philadelphia Hard Money Lenders
Philadelphia Foreclosure Auctions
Philadelphia Sheriff Sale Properties
http://www.officeofphiladelphiasheriff.com/en/real-estate/sheriffs-sale-webapp
City of Philadelphia Sheriff and Foreclosure Sales
https://www.phila.gov/services/property-lots-housing/foreclosure-sheriff-sales/
Title Searches
City of Philadelphia Department of Records
https://www.phila.gov/records/
City of Philadelphia Department of Records Deeds
https://www.phila.gov/records/DocumentRecording/Deeds.html
Philadelphia Property Ownership Using Online Deed Records Guide
https://www.phila-records.com/historic-records/eagleweb/docs/Tracing%20Philadelphia%20Property%20Deeds.pdf
Philadelphia Zoning
Zoning approval is necessary for many new types of construction projects in Philadelphia. Make sure to visit the Business Services Center for more information about Zoning.
City of Philadelphia Zoning
https://www.phila.gov/li/Pages/Zoning.aspx
Philadelphia Atlas
City of Philadelphia Business Services Zoning and Use
https://business.phila.gov/zoning-basics/
Building Code and Permits
City of Philadelphia Department of Licenses and Inspections
https://www.phila.gov/departments/department-of-licenses-and-inspections/resources/applicable-codes/
City of Philadelphia Permits, Violations & Licenses
https://www.phila.gov/services/permits-violations-licenses/apply-for-a-permit/building-and-repair/get-a-building-permit/
Real Estate Flipping and Investing Groups in Philadelphia
Philadelphia Real Estate Investors Association (REIA)
https://www.meetup.com/Philadelphia-Real-Estate-Investors-Association/
Diversified Real Estate Investors Group
Philadelphia House Flipping Outlook
The economy of Philadelphia has been strong for a number of years, and the population is growing. Homebuyers come from all over the area looking to buy homes in and around Philadelphia. Home values in
Philadelphia have increased in recent years, creating ongoing opportunities for house flippers willing to improve properties.
Did you find this useful? If so please share and comment!