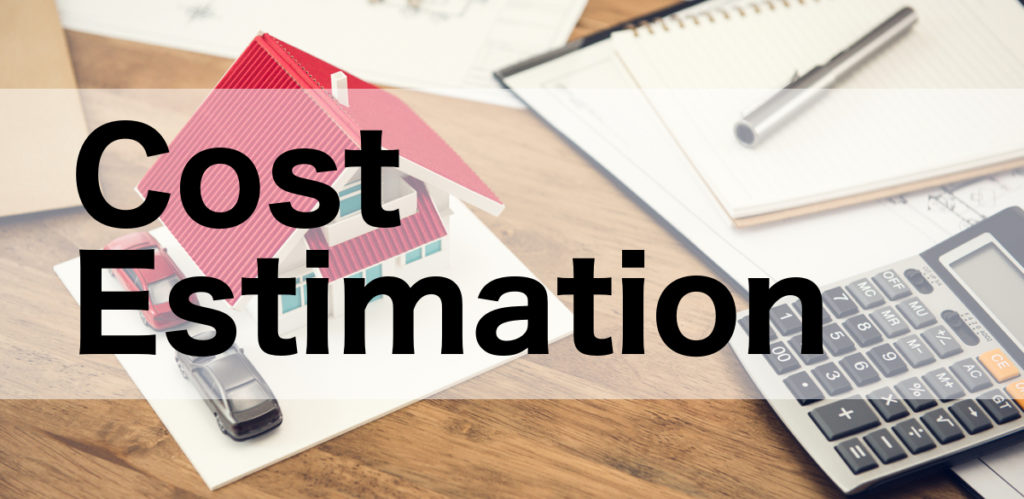 Cost estimation for house flipping is a critical skill that can make or break the profitability of a house flip.
It's essential that you get good at estimating the costs of acquiring, rehabbing and selling properties. To do this you will need the right tools and follow a systematic process.
House Flipping Cost Estimation Spreadsheet
Tools for house flipping can be critical to making the process efficient and profitable.
One of these tools is a house flipping cost estimation spreadsheet, However, not all of them have the same features or accomplish the same tasks.
Here are some features a house flipping spreadsheet will need:
Deal Analysis
Project Management
Accounting
Reporting
Estimate Repair Costs & Analyze the Maximum Purchase Price
See this post to learn about the best house flipping spreadsheet features you need.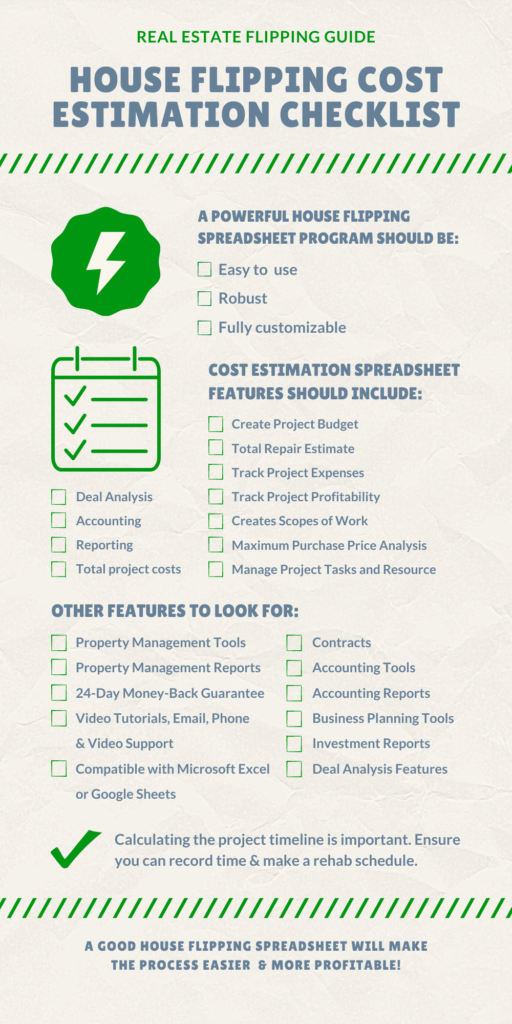 How to Use a Cost Estimator
Once you have bought or created the right flip house cost estimator spreadsheet, the next step is to learn how to use it. This is fairly easy for anyone experienced with using office software such as Excel or Google Sheets.
Click here to learn how to use a flip house cost estimator to its fullest.
Traps to Avoid When Estimating House Flipping Rehab Costs
Estimating rehab costs accurately is an extremely important part of the house flipping process. Without it, a house flip project can easily sink and lose money.
There are some traps a house flipper must avoid when estimating house rehab costs.
Underestimating the time it will take
Using the DIY method to project costs
Missing hidden damages
A significant amount of risk can occur by simply making cost projection errors.
To learn about traps to avoid when estimating rehab costs see this post.
Home Renovation Cost Estimator Spreadsheets
House flippers are busy, and saving time and money is important. You should use all the tools and help available to you. One of these is a home renovation cost estimator spreadsheet.
A good home renovation cost estimator spreadsheet makes flipping houses faster and easier by providing a cost calculation framework and pre-configured information. Here are some important things to look for:
Make sure it's NOT free (these spreadsheets are too simple)
It must include space to add more items
It should include built-in tutorials
To learn more about what to look for in a home renovation cost estimator spreadsheet, see this post.
Using a Renovation Cost Estimator for House Flipping
New house flippers often underestimate the complexity of estimating costs on a flip property. Knowing which properties will be good deals in the long run, how much to offer, and how much to invest in renovations is not easy.
However, excellent cost estimation tools exist to help house flippers decide which deals are good and which are not.
A renovation cost estimator is a spreadsheet program whose primary purpose is to organize, categorize and calculate costs of rehab items. Some items that renovation cost estimators help calculate include:
Landscaping
Roof repairs
Bathroom items
Kitchen items
A renovation cost estimator should be used from the very start of the house flipping process to estimate costs.
Read this post to learn more about using a renovation cost estimator for house flipping.
Making Accurate House Repair Cost Estimates
Making an accurate house repair estimate for a house flip is essential. Choosing which house to flip and what repairs and upgrades to make are big decisions.
The cost / benefits of taking on a project very much depend on the investor's ability to estimate repairs quickly and accurately. Most new house flippers have minimal experience renovating houses and do not know how to go about learning the necessary skills.
There are ways to learn how to make house repairs without knowing anything about construction. Some of these include:
Find an expert in home renovation to help
Give them something in exchange for their advice
Get hands-on guidance at the property you're looking at
To learn more about how to make an accurate house repair cost estimate, see this post.
FAQs for House Flipping Cost Estimation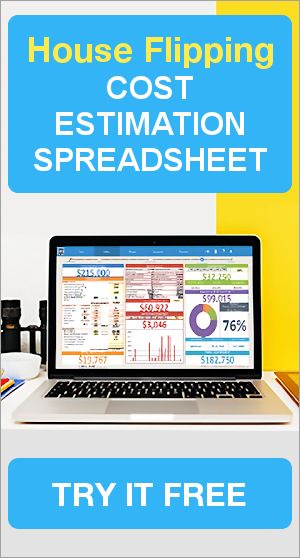 Did you find this useful? If so please share and comment!