In this in-depth article we touch on most of the aspects of flipping a house and how to do it correctly.  There are a lot of moving parts to house flipping and we hope this is useful resource to get you up to speed. 
If you want to dig in deeper on specific house flipping topics, you can read all our house flipping articles here >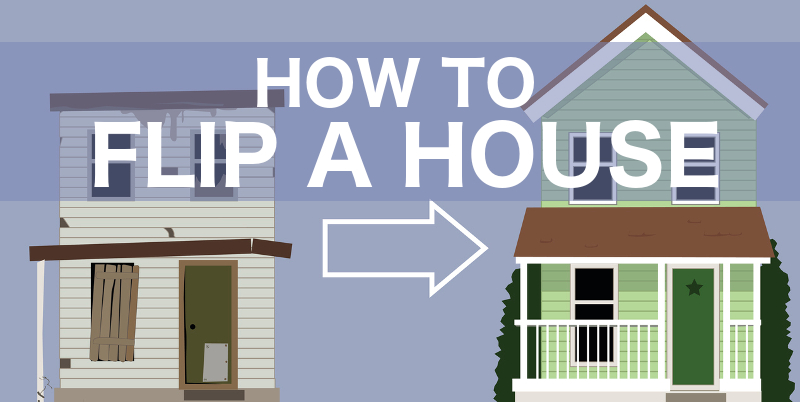 What Does Flipping a House Mean?
Flipping a house means purchasing the house then quickly reselling it for a profit. In most cases flipping a house requires fixing a number of issues with the property before it can be resold for a profit. In other cases, the house can be quickly resold without significant renovation effort, time and cost. This happens more often in quickly rising real estate markets.
One essential element of how to flip a house is the time between purchase and sale. For a property transaction to be a flip, the holding time must be less than 1 year. In many cases house flips take less than 3 months. The less time you are in a flip house investment, the less time there is for the local property market conditions to change for the worse.
The Best Skills to Have for Flipping Houses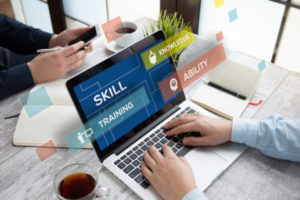 The best skills for flipping houses (besides finding good houses and financing the business) are functional skills that someone else charges a lot for. This includes HVAC, plumbing, and electrical. The bonus of doing these things yourself is that you can save significant money and ensure things are done right the first time to pass building inspections when you sell.
If you need help, try friends and relatives who also have expertise in the areas you are looking for. These people can be great partners in a house flipping business!
If your motivation and construction skills are high, you can buy the house and fix it up while living in it, sell it and then buy another. This takes discipline, cash reserves, and the right tools to pull off. This is a low-risk approach to flipping houses and solves problems like potential theft during the rehab process.
Of course you need people skills such as the ability negotiate, make phone calls, meet new people, and deal with lenders, buyers, and the neighbors next door.
The ultimate goal of applying all these skills is to add value and move the house up in the market so you can make a significant profit.
What Buyers of Your Flipped House Look For
Location
Buyers will consider any potential home's proximity to their work, stores, the charm of the neighborhood, ease of access, noise from neighbors, traffic, and pets, as well as access to parks, shopping, schools, and public transportation. Look for older housing stock and cosmetics that are out of date – both in appearance (plaster, fake wood paneling, etc.) and in infrastructure (needing plumbing and heating updates, no AC). Buyers don't want to pay for these updates to a house if they don't have to, and fixing them can increase the value of the home significantly.
The Lot
Is the home on the side of a hill, does it have a view, a walkout basement, or lots of stairs to climb? Is the yard suitable for kids, pets, gardening, or other uses? These are very important to consider.
Neighborhood
Do the neighbors keep their yards clean and tidy, or are there old cars and trash around? Is the neighborhood safe enough for people to walk, run, or bike, and are there children playing in the yards?
Curb Appeal
Look at the exterior features. A brick home is easier to maintain, unless, of course, you live in an earthquake-prone area. Is the landscaping attractive and are the sidewalks leading to the home safe? Also, what type of lifestyle does the home project?
Home Size and the Floor Plan
A person who lives alone will likely not need four bedrooms and four baths. However, a large home can give a family the extra space they need to raise children and have a home office. Different target buyers will have different size requirements.
Kitchen
Buyers will not settle for a home with a kitchen that does not work. Appliances can usually be replaced fairly easily, but counter tops, stoves, tile, and flooring are more difficult and costly for buyers to do. People will pay good money for a fully upgraded kitchen that is already in place.
Roof
Buyers do not want to purchase a house that needs a new roof. To make a house marketable you need to ensure the roof does not leak has at least few years left before it needs to be replaced. Today's buyers may also want a home with roof-installed solar panels. However, investors should first check with the local utility companies, as they may prefer their own solar installation programs. These may also be cheaper than those provided by other market-based solar companies.
HVAC and Electrical
Home buyers expect the HVAC to work, and to be relatively new. All the outlets in the home should also be in working order. The expense and time involved in fixing electrical systems can be extensive — including ripping out the entire interior of the house — so be very careful if a house has electrical issues.
Windows and Lighting
Do the windows allow enough light in the house? Are they modern looking? Are they energy efficient? Will the electrical outlets and fixtures accommodate your buyers's lighting needs? Is there recessed lighting in the kitchen, cove lighting in the family room or a nice chandelier in the dining room?
Closets and Storage
Buyers may have lots of sports equipment, craft supplies, holiday decorations, etc. Closets and other storage areas need to be able to accommodate all the "stuff" that families accumulate.
Bedrooms and Bathrooms
An extra bedroom is always a plus, as it can be used for a home office, craft studio, or guest room. Bathroom sizes and amenities usually matter a great deal to buyers. A large master bedroom can make a big difference to the marketability of the home.
Don't Skip the Small Details
Installed moldings, hardware, and a clean fireplace can do wonders to make a home look special. Also, don't forget to improve the little things that add shine to the home such as spotless carpets, and clean walls.
What To Focus On
People want location first, then cosmetic features, especially kitchens and baths. If they like the home and major structural items are not raising any alarms, they will buy it. Investors should avoid falling in love with a house and spend extra money to make it look like their dream home. For example, high end appliances should not be put into a moderately priced flip. It might make sense in an expensive home, but not a cheaper one. Finally, getting assistance from a licensed contractor or another real estate investor with experience in home repair can be very useful for investors when first starting out.
How to Fail at Flipping Houses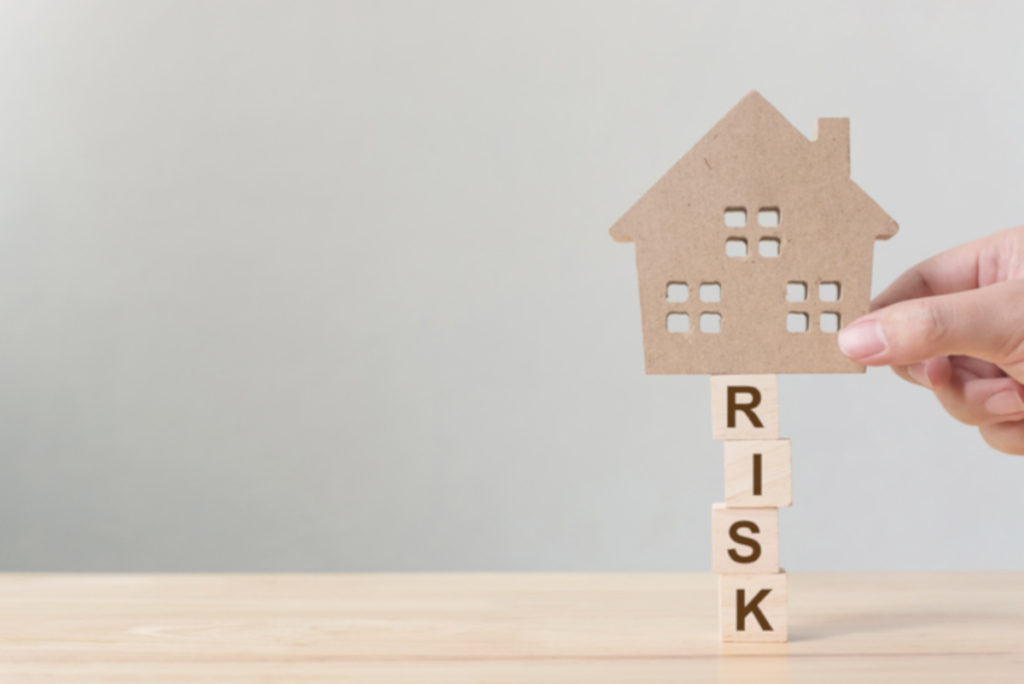 House Flippers Fail in 3 Ways:
1) They don't renovate the house enough or go to cheap on important details.
2) They spend too much, or spend money on the things that don't make money.
3) They buy the wrong house. Often people buy smaller houses to flip because they are easier to work on and seem like a quicker profit. However, buyers will only spend so much for a tiny house in great shape.
The reason so many first-time home flippers fail is they don't fully understand that house flipping is a numbers game.
Also, many newer investors don't have their approach clearly defined when they start out. This leads to getting into deals which can quickly result in disaster. Your exit strategy needs to be planned out before you purchase the house.
Perhaps the bigger problem is that you just don't have enough good flip house opportunities coming your way. You need to commit to a consistent plan of action to source good houses to renovate and flip. Commit to being persistent with your marketing and the snowball effect will take hold.
Become a House Flipping Market Expert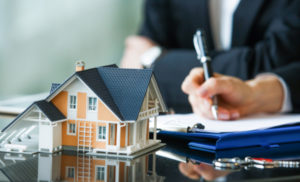 It's essential that you become an expert in your local real estate market. Know the market value of comparative properties in the area, including fixers and recent sales of renovated homes.
1. Get involved in the community
Doing this can give you clearer understanding of the kinds of homes being bought and sold. Are they for families, singles, wealthy, lower income? Do they commute to work, or work nearby? Are there schools nearby and how good are they? Getting involved in your local community will help you understand the market at a much deeper level.
2. Get to know the local area businesses
Doing this can give you an idea as to the kinds of shopping and commercial amenities available. Are there jobs available that drive people to want live in the community? Is there upscale shopping, or shopping for moderate income?
3. Walk or drive your community
Get out and take a walk or driving tour. This is a great way to learn about neighborhoods in your target real estate market. Drive out to new developments on the outskirts of town and take a look around. Learn the street names. Learn the quickest routes from each of the neighborhoods to the airport, shipping, schools or hospital. Learn the differences among the local grocery stores, bakeries, and coffee shops.
4. Stay ahead of the most current local real estate market trends
The MLS is a useful place to gather trends and statistics. You can also inquire with local real estate agents on the range of prices they have recently sold houses for. Are there more or less sales than usual? It could mean the market has changed. Get a clear picture of what is happening in the market, both price- and volume-wise.
Finding Houses to Flip
Getting Leads on New Houses to Flip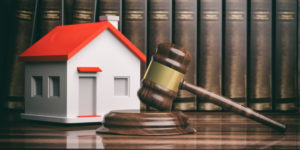 Prospecting or knowing where to look for underpriced properties is a key element in the process of profitably flipping real estate.
Here are some steps you can take to get new leads on houses to flip.
1. Search the Multiple Listing Service (MLS)
The MLS database contains all houses for sale whether under a listing contract by an agent's brokerage or by any other participating broker.
2. Contact and/or join Real Estate Groups
Joining a Real Estate Group puts you in the middle of the local real estate players.
3. Explore tax auctions
Tax auctions and sheriff's sales (properties being sold due to unpaid property taxes) are another way to acquire property for flips.
4. Contact home wholesalers
These are companies that usually acquire properties through tax sales or short sales and sell them to investors.
5. Read the local paper
People still do advertise to sell their homes in the local paper. You'll most likely find more "Open House" ads but they'll usually list when, where, and the sale price.
6. Explore probate sales and estate sales
Probate sales are properties being sold by a probate court because the owner did not have a will or there are no heirs.
7. Send mailings to absentee home owners and owners who have inherited property
If you see a run-down property and believe it might be a rental, you can find the name of the owner from your town clerk. Read the obituary section of the newspaper for leads on homes that may be for sale due to the death of a loved one. Then send a letter offering to purchase the property.
8. Partner with probate attorneys
These lawyers work with families going through the probate process and most of the time families just want to liquidate assets from the estate as quickly as possible to receive their inheritance.
9. Partner with divorce attorneys
During the course of a typical divorce, some people tend to not care about what they receive just as long as the other party receives even less.
10. Partner with bankruptcy attorneys
These attorneys will have clients who are filing for bankruptcy and may be interested in selling their home before or after they file.
11. Partner with real estate attorneys
In addition to handling real estate closings, this type of attorney deals with fixing problems people are having with their partnerships, co-ops, joint ventures, etc. They will also know about real estate deals that end up not closing for a variety of reasons.
How to Make the Most Money Flipping Houses: Move Properties Upmarket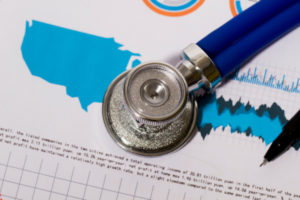 The key to making the most money from flipping a house is to move it upmarket. That means buying cheaply, then investing in improvements so it's perceived as a fundamentally more valuable house.
The idea is to move your flip up in the market, and to do that you need a bigger home in a good location. Small houses in bad locations are cheap and there is no way to move them upmarket — meaning it's impossible to make a lot of money on them. You will end up working for wages, and not for large wealth accumulation if you buy houses in the wrong part of the market.
Take a hard look at your target real estate market and decide where the best location to flip will be. In some areas, $200,000 for a home would be absurdly cheap, where in other areas this $200,000 would be absurdly expensive. Every market is different, so you need to have a good handle on the market you plan to flip in.
These questions are important to ask:
How much are average homes selling for?
How much are bank REOs selling for?
How fast are properties selling?
What areas seem to be selling the fastest?
What property types / size / layouts seem to be selling the fastest?
Do a thorough job of understanding and honing in on your local market. Walk through as many open houses as you can, and meet with local experts to discuss the state of the housing economy. Then, cycle back and do the math to see if flipping makes sense in that area.
It's often a good idea to look for housing stock that is old (but still upmarket) where cosmetics might be out of date. Doing cosmetic rehabs is easy and can increase the value of the home substantially in the eyes of upmarket buyers.
How to Maximize Your House Flipping Profits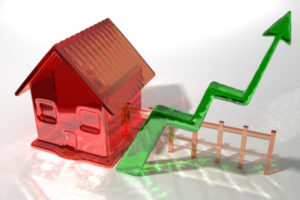 There are several high leverage steps you can take to maximize your profit when flipping houses.
The first one is to get a real estate license. This helps access your local MLS and cuts out a (very) expensive middleman.
Second, only make offers at deep discounts to the post-renovation sales price (ARV).
Third, be sure the property can be cash flow positive as a rental if you get stuck with it. Make sure you do this calculation assuming a reasonable vacancy rate, particularly in a declining property market where rents may drop as well.
Fourth, get used to moving quickly and getting ahead of competing buyers. This means developing relationships with potential sellers and having your financing arrangements in place ahead of time. It also means consistently canvassing the local market for properties, and making offers before the property is for sale.
Flipping Distressed or Foreclosed Properties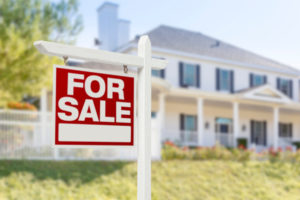 A distressed property is one that is under a foreclosure order or is advertised for quick sale by its owner (mortgagee). Flipping foreclosed houses can be a great strategy in the right market.
You can buy a foreclosed house below its market value because the bank that owns it wants to get it off their balance sheet. Or the property may be a short sale by a distressed owner before the bank forecloses on it.
Distressed and foreclosed properties commonly show up during difficult economic times when owners cannot make their payments on their mortgages. Even though hard times create distressed properties, the market depends on location and how many are available. In some regions, home prices are relatively stable during market downturns, so there are fewer distressed homes. However, in other states, plenty of them hit the market due to big economic shifts. California and Florida were both states that had a lot of distressed properties from 2008 to 2011.
Even though you can get a good price on these properties, there is a limit to how low the price will go. As more real estate buyers pick up foreclosed properties and demand increases in the market, the prices start to increase. Getting in sooner, rather than later is often the key as a house flipper.
If you decide to buy a distressed or foreclosed house to flip, keep in mind that the flip may take longer than in good economic times because the demand from home buyers may be weak. The market may have to recover for you to sell profitably, so it pays to have a longer time horizon.
For more information on how to flip foreclosed houses successfully start by reading this article.
Financing House Flipping
You Need Lots of Cash to Flip a House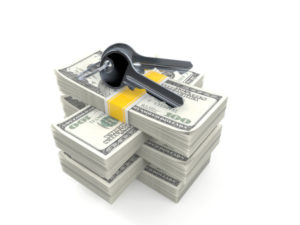 Flipping houses can require a fair amount of capital. Cash is king in the house-flipping business.
You will need a minimum of 20% cash downpayment to secure a loan on a flip house. Since it's non-owner-occupied lenders require significantly more cash up-front to reduce their risk.
Having a lot of cash on hand can help seal deals quickly on highly discounted properties when the owner wants to get out fast. This means you will close more houses to flip at better prices. Pooling investors or using hard money loans can help raise the necessary capital for all-cash and high-cash deals.
It's difficult to finance repairs on a flip house at a reasonable rate. The available equity on a flip house is generally insufficient to allow a HELOC to finance repairs. This means you'll need to pay cash, or use high-cost sources like personal lines of credit, short-term loans or even credit cards to get the necessary repairs done to make the house marketable.
How to Flip Houses with No Money Out of Your Own Pocket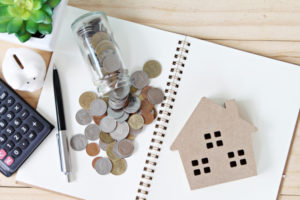 If you want to start flipping houses today, your best chances of receiving funding are going to be private money lenders, hard money lenders and equity partners.
Private Lenders
Private money lenders are essentially banks without the endless hoops to jump through. While the average private money lenders rate is slightly higher than that of a traditional lender, they can have the money in an investor's hand in as little as a few days, or even hours. Speed is the greatest benefit of working with private money lenders. Traditional banks, on the other hand, may take as long as 30 to 45 days to close on a loan, or just long enough to let a deal slip through your fingers.
In exchange for the funds, most private money lenders will require a bit of an insurance policy; or, more specifically, a promissory note and a mortgage or trust deed on the subject property, but everything is negotiable.
Hard Money Lenders
In their simplest form, hard money lenders are lending companies that offer specialized short-term real estate-backed loans. Unlike their private money counterparts, they are actually affiliated with a company that specializes in lending. Hard money lenders tend to stick with a six month to two year window for loans, and not much longer.
There are no universal hard money lender guidelines; each will come complete with a different set of criteria.
Equity Partners
A partner with money, who also wants to flip houses, is just as good as a private lender or hard money lender.
There is no reason your partner can't fund the deal as long as you bring value to the table. Without providing the funding, you had better bring a lot of value elsewhere, such as bringing the deal to them. Also, partnering with investors that already have money is also a great way to get started investing.
In summary, try these three options when investing in real estate of you have no money and bad credit.
You Can Raise Money by Crowdfunding to Flip Houses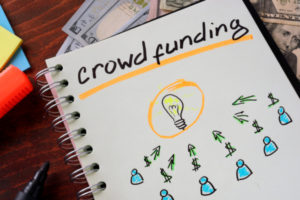 Crowdfunding is when capital from several un-associated individuals is pooled together to invest in a common business venture. This practice has been around for some time in real estate and historically has been known as "syndicating."
The JOBS Act changed things slightly by allowing real estate operators to "generally solicit" or "advertise" the fact they are raising capital for their deals. This is good news for house flippers because prior to the JOBS act, you could only market your deals to investors you had a pre-existing relationship with. Now you can more broadly "advertise" your investments.
That said, there are right and wrong ways to do it – which is why it is best to select a reputable platform that can help you navigate crowdfunding real estate deals.
There are over 100 real estate crowdfunding sites to choose from. But too many suffer from poor investor protections, inadequate volume and/or hidden fees.
Here are five real estate crowdfunding sites to consider:
1) PeerStreet
2) CrowdStreet (mostly commercial properties)
3) FundThatFlip
4) 1031 Crowdfunding (1031 exchanges)
5) ArborCrowd
As usual, consider the main factors of real estate investing, such as Underwriting Requirements, marketing, networking, and long and short term strategies. You should have clear plan for the crowdfunding process if you choose this route.
Accurate Cost Estimation is Essential to Flipping a House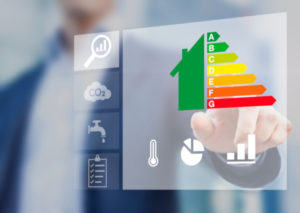 To really profit from rehabbing and flipping houses, it's not enough to have a good contractor (or be one yourself). You need firm cost estimation experience for many types of houe repairs such as roofs, concrete, kitchen / bath, windows, electrical, landscaping, etc.
Your house flipping cost estimate should include:
The House Costs
Fixing a house can mean a simple cosmetic paint job, changing out a few fixtures here and there, or gutting the entire kitchen. And sometimes things need fixing that you cannot see.
You need to create something called a "budget repair sheet" or "cost estimate form." These are basically spreadsheets that keep track of what needs to be repaired in different areas of the house. You take your budget repair sheet and do a walk-through of the property with your general contractor, making note of the things that need to be fixed.
The General Contractor (GC)
If you are new to house flipping, trying to fix everything on your own will end up costing you more money than if you just hired someone who knew what to do in the first place.
A good general contractor will make your life a lot easier, and will also free up your time so that you can start hunting for your next investment property. Just don't forget to add the GC's salary to your estimated total repair costs for the flip.
To find a good GC, ask around in your social group, community, or neighbors for someone who fits your requirements.
Subcontrators
Your subcontractors are your painters, plumbers, electricians, etc. If you have a general contractor, then you'll have some help getting fair quotes from all of the subcontractors that you'll need when you flip your house. A trustworthy and experienced general contractor will know and work with the most reliable subcontractors. Subcontractors need to be managed properly — this is a big issue in many house flips.
Carrying Costs
Repairing your investment property is probably going to take a few months, and during that time, you're responsible for basic upkeep. That means that you will have to pay utility bills (gas, water, electric), as well as insurance and property taxes.
Create a renovation and marketing schedule that all parties agree to in advance, and then follow up on it to make sure that everybody is sticking to the plan. Falling behind a couple weeks could cause a domino effect of delays—and carrying costs could sabotage your budget.
Expect the Unexpected
After you've calculated everything you can according to the checklist above, set your budget to be 10% more than the number you come up with.
If you plan for what you don't know could happen, you'll come out on top at the end of your fix-and-flip experience.
Read more on how to accurately estimate house flipping costs here >
Capital Gains Tax Affects the Profit from Flipping a House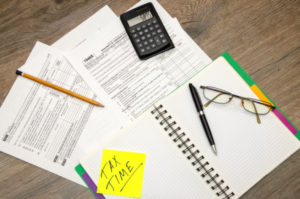 It's essential to properly navigate capital gains taxes in a house flipping business.
If you reinvest the money within 180 days of the closing of a house sale through a 1031 exchange company, you can defer the taxes as long as you keep investing and purchasing.
Straight capital gains tax will cost you between 15-32% of the profit you make off the home, depending on what your total taxable income is for that year.
House flipping can yield significant capital gains profits with little initial investment. In addition, write-offs can be used to counter your taxable income. These include mortgage interest, closing costs, title insurance, and so on. Rentals can yield even more tax write-offs, if you end up holding a flip house longer than expected and rent it out.
Make sure you hire an accountant with real estate experience to properly handle capital gains and other taxes.
Running a House Flipping Business
House Flipping Timelines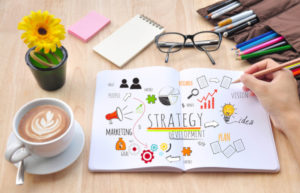 House flippers should be able to accurately estimate timelines involved in rehabbing and flipping different properties.
There are a number of best practices to shorten house flipping timelines. These include:
Evaluating repairs and marketing requirements ahead of time
Knowing local average days on market
Understanding how to plan and schedule the end-to-end process
Being able to create practical work plans
Get good at managing and motivating contractors
So how long should it take to flip a house?
Months
It can take 3-6 months or longer to flip a house. Many unexpected problems can arise along the way that make it difficult to accurately estimate shorter time frames. However, these issues can be planned for with greater experience.
A house flipping project might genuinely deserve months of attention, or it may only take a few weeks. Each day that passes not only means spending money, but also means more risk.
Big issues can take time to fix. Roofs, foundations, additions, and pools can all take a long time to address. In some local markets, contractors may be backed up months before they can get to you. There can also be permitting issues. Seasonal demand is a big factor in northern markets. It pays to know these things before you jump in.
Real estate investors also need to account for their marketing strategy, and how long it will take to close after finding a buyer. If you find a buyer tomorrow, will it be a cash buyer, or one that needs a loan and could take months to close?
Days and Weeks
New house flippers often want to know how to flip a house in a short period of time. In fact, most real estate investors can accomplish far more than anticipated in far less time if they have the right forms, strategy and get good at coordinating contractors and vendors. New paint, floors, landscaping, and cabinetry can all be done in days and make a massive difference. It pays to work fast when flipping houses!
How to Make House Flipping a Full-Time Career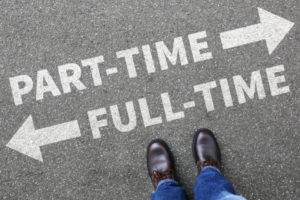 If you follow the listed tips and lessons on this website, you should have a good amount of know-how to dive in and make house flipping a full-time job.
There can be a tremendous amount of work to be done for each house flip, and the more skills you can apply, the more work you can accomplish yourself. This can easily fill a large chunk of your workweek if you choose.
The good news is that this career does not have set hours, so you can decide how much time to spend on it. You and your partners are the bosses. Come to a consensus as to which of your partners will be doing which part of each job. It does not have to be 50/50. One of your partners can be a silent or part-time partner and let you take control if that works.
Once you have decided to make house flipping a full-time job, focus on finding the best deals on the front end, rather than investing a large amount of time on rehabs to raise your property values. Look for distressed properties if possible. If you do several house flipping projects incorrectly and unprofitably, your career as a house flipper could be over quickly. If you've got the time, spend it on buying the right houses.
How to Do House Flipping as a Part-Time Job
House flipping can be done on nights and weekends as a part-time job. You can flip one house at a time. Maybe one of your partners can do most of the work, so you can be a part-time contributor on the flips. Or you could live in the house while you rehab it in the evenings after work.
Maybe you have a great full-time career but have always been interested in real estate. Perhaps you love do-it-yourself home projects and are looking for something larger and more lucrative to test yourself on the weekends. Maybe you want some side income or retirement savings boost. Maybe you have an inheritance or a large amount of savings you are looking to invest in. It is all up to you and how your lifestyle fits.
You could even just be an investor if you can find a partner to handle the day to day work of house flipping while you are busy.
Flipping houses on a part-time basis can be done if you are willing to put in the work. Just be careful not risk your main career by burning yourself out.
Renovating Houses to Flip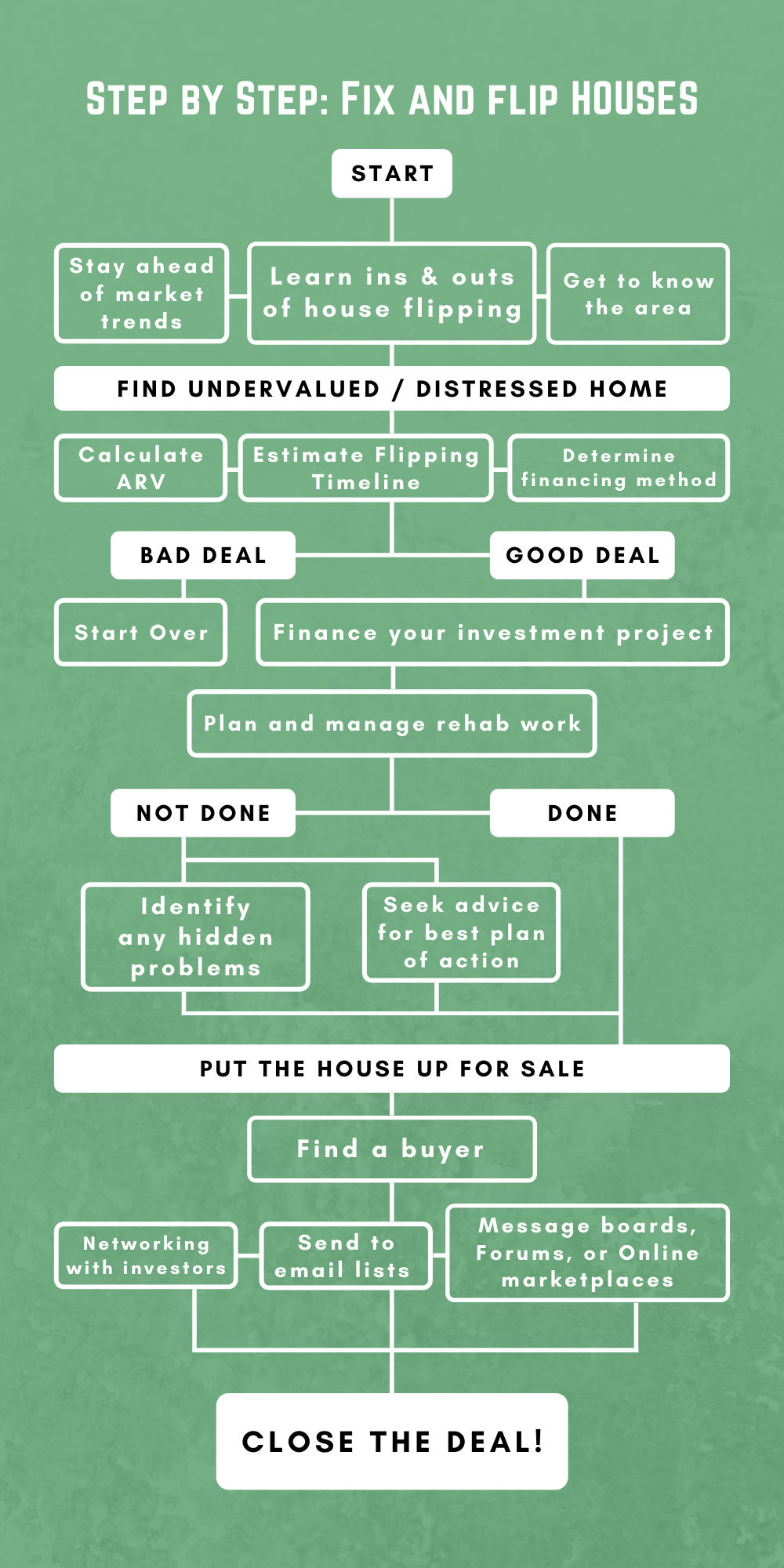 Home Renovation and House Flipping
It is best to start flipping houses by getting the right tools and guides. You can find answers to almost any problem or project you have on the internet.
If you are looking for some more general knowledge, try taking a look at the books section of your local hardware store. They usually have some good beginner books on plumbing, electrical, painting and other common around-the-house work. You can look on Amazon in the "how to do everything" category to find useful books.
High up on the list of common tasks for home owners are basic electrical and plumbing: Changing light fixtures, switches, dimmers, thermostats, unplugging drains and toilets, replacing faucets and/or components. Usually, the easier projects revolve around replacing existing components, whereas more complex projects involve new installs or big modifications.
You can do anything you put your mind to. However, it's imperative to know when you are in over your head and when you should bring in a professional. Stay away from serious electrical work, and never try anything gas-related on your own.
Here is a useful list of house flipping tools to start:
Cordless drill
Crowbar
Measuring tape
Utility Knife
First aid kit
Multimeter
Needle-nose pliers
Speed square
Small and large hammers
Locking pliers
Power miter saw
Screwdriver set
Standard and metric allen keys
Quick clamps
Tool belt
Work gloves
Reciprocating saw (sawzall)
Circular saw
Levels of different sizes
Channel lock pliers
Socket wrench set
Safety Glasses (must)
Stud finder
Multi-tool
This is just a starter list. Plan to buy or rent many more tools for specialized projects as your renovation experience increases.