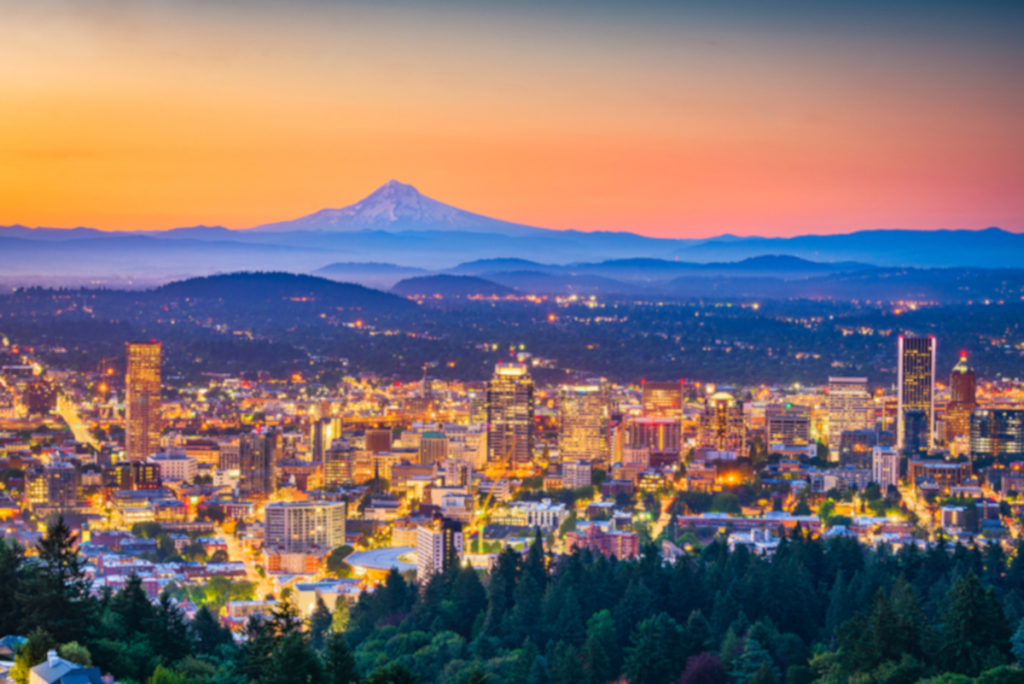 This Portland house flipping guide will help new and active house flippers do business successfully in this city.
Many people continue to move to Portland due to a strong economy from technology, sportswear companies and breweries. With an unemployment rate lower than the national average, and a young and vibrant workforce and jobs that are expected to grow in the future, Portland is an excellent place to invest in real estate.
Income taxes may be higher than other states, but sales tax is at zero meaning Portland is attractive to retirees looking to buy homes as well.
The Great Recession made a dent in the housing starts, so market supply is low comparable to housing demand, making it great for investors.
The overall population of Portland is growing and household income is higher than the national average, so working adults with families are looking for homes now and in the future also.
Portland boast some very good neighborhoods and school districts, so families can feel great living there. For flippers, there are house flipping and real estate investment groups available to join to learn more about the business and to meet other investors.
Overall, investors should not be afraid to flip houses in Portland.
Key House Flipping Stats for Portland
| | |
| --- | --- |
| Population | 647,805 and 5 year growth rate of 1.49% |
| Income | Average Household Income of $71,931 and 5 year growth rate of 18% |
| Home Value | Average price of 3 bedroom 2 bath home of $399,000 and 5 year growth rate of 38% |
| Cost of Living | Portland is 108 vs 100 for the U.S. cost of living index |
| New Home Starts | 14,504 and 5 year growth rate of 18% |
Property Taxes
Clackamas County: Roughly 0.85% of a property's assessed fair market value are collected as property tax. The average yearly property tax paid by Clackamas County residents totals about 3.66% of their yearly income. For properties that are the primary residence of the taxpayer, a homestead exemption may exist. This may also help protect the home from being repossessed in the case of a property tax lien due to unpaid Clackamas County property taxes or other types of other debt.
Try deducting 100% of your Clackamas County property taxes from your taxable income as an itemized deduction on your Federal Income Tax Return.
Washington County: On average, 0.93% of a property's assessed fair market value is collected as property tax here. About 3.4% of resident's yearly income is paid by Washington County as property tax.
You can get an application form for the Washington County homestead exemption from the Washington County Tax Assessor, which can provide a small property tax break for properties which are used as the primary residence. Also, other exemptions might be available for farmland, green space, veterans, or others. Call the Assessor's Office to find out more information.
http://www.tax-rates.org/oregon/property-tax/washington-county-assessor
Multnomah County: On average, 0.99% of a property's assessed fair market value as property tax. About 3.96% of residents' yearly income is paid as property tax residents in this county.
Try deducting 100% of your Multnomah County property taxes on your Federal Income Tax Return as an itemized deduction. Oregon may also allow deduction of some or all of your county property taxes on your Oregon income tax return.
Get a Homestead Exemption to help protect your home from being repossessed in the case of a property tax lien because of unpaid Multnomah County property taxes.
http://www.tax-rates.org/oregon/clackamas_county_property_tax
Portland Area Flood Zones
Columbia River FIRM Flood Zone AE.
Multnomah Drainage District No. 1
Columbia River FIRM Flood Zone A.
Willamette River FIRM Flood Zone AE.
Johnson Creek, Fanno Creek and Crystal Springs Creek FIRM Flood Zone AE.
Johnson Creek FIRM Flood Zone AH.
Johnson Creek FIRM Flood Zone AO.
Johnson Creek, Fanno Creek, Tryon Creek, and Crystal Springs Creek FIRM Flood Zone A.
Flood 1996 inundation areas adjacent to Columbia River FIRM Flood Zone AE, Multnomah Drainage District No. 1, Peninsula Drainage District No. 2 Firm Zone AH and Columbia River FIRM Flood Zone A shall have freeboard of one foot.
Portland Crime Rate
| | |
| --- | --- |
| Portland Crime Rate | 410 crime index versus 280.5 U.S. average |
Portland Transportation
Portlanders use public transit at a higher rate than in most similarly sized U.S. cities.
TriMet operates a large fleet (610 buses) on a network with a total of 80 bus routes.
Portland's light rail system, named MAX (short for Metropolitan Area Express), is made up of five color-coded lines.
The central parts of Portland are served by The Portland Streetcar, a two-line streetcar system serving the central part of Portland including downtown and the immediately surrounding areas.
The cities of Wilsonville, Tualatin, Tigard and Beaverton are connected by
TriMet's WES Commuter Rail.
The Portland Aerial Tram is an aerial cableway that connects the South Waterfront district with Marquam Hill above the city.
Bicycle use is popular in Portland has been growing quickly over the past decade .
Also, in 1994 Portland developed a pedestrian master plan, so the city core is very friendly to bikes and people who walk to work or for shopping.
Many streets in Portland are one-way, such that parts of downtown Portland are almost all one-way streets that form a grid of alternating street traffic.
There are a large number of bridges in Portland to travel across that give the city its nickname of "Bridgetown".
For long-distance passenger rail service , travelers can use Amtrak to travel to and from Portland.
The Portland International Airport (PDX, KPDX) serves as Portland's main airport and is located about 20 minutes by car from downtown.
There are also car sharing services for those living in downtown Portland or in nearby neighborhoods through Zipcar.
Neighborhoods to Flip Houses in Portland
Eastmoreland is one of the best neighborhoods in the Portland-metro area. Highly rated public schools, low crime, active nightlife, and good for families. Average home values are around $733,000.
Arlington Heights is another excellent neighborhood for families and public schools. However, diversity is a little bit lower, and crime is not as low as Eastmoreland. Average home values sit around $787,000.
Healy Heights has top notch public schools and very low crime. It is an overall great place to raise a family. Average home values are around $725,000 in this neighborhood.
Richmond has an average home value of $379,684 compared to $440,072 for Portland overall. Houses built there are also much older than in the rest the city. The crime rate is also slightly higher, but it does have decent schools. This could be a great area to flip houses in Portland.
Lake Oswego has the best school district in the Portland-metro area. Very high state test scores in math and reading and a student-teacher ratio of 22 to 1. Lake Oswego is right nearby and so is downtown Portland. Average home values are near $650,000.
House Flipping Resources in Portland
Foreclosure Auctions
Foreclosure Sale Properties sales are held at 12:00 noon at City Hall Atrium inside City Hall, 1221 SW 4th Avenue, Portland, OR 97204
Also see:
The City of Portland Foreclosed Property Auction Information
The Daily Journal of Commerce Sheriff Sales
Auction.com Portland Foreclosure sales
Portland Tax Assessments
Multnomah County Assessment and Taxation
Location
The Multnomah Building
501 SE Hawthorne Blvd.
Suite 175
Portland, OR 97214
Phone
503-988-3326
Email
Customer Service
[email protected]
https://multco.us/assessment-taxation
Portland Deeds and Titles
The counties that make up Portland record documents related to property transactions such as mortgages and deeds. This information can be accessed through the Division of Assessment, Recording and Taxation's Public Research Room. Online information can be found through their two online databases, MultCoPropTax and MultCoRecords. Both require registration for full access but MultCoPropTax permits limited access though a guest login.
https://multco.us/records/property-ownership-information
Also, Portland Maps can provide basic property information including ownership information.
Portland Zoning
City of Portland Development Services:
General Information (503) 823-7300
Planning & Zoning (503) 823-7526
Email: [email protected]
1900 SW 4th Ave, Portland, OR 97201
https://www.portlandoregon.gov/bds/36649
Portland Residential Permits
https://www.portlandoregon.gov/bds/36658
Accessory Dwelling Units (ADU's)
Garage, Shed Accessory structures
Fences
Conversion to Living Space
Residential Demolition
Residential Seismic Strengthening
Decks
Retaining Walls
And more…
Portland House Flipping Tips
Do's
Choose houses that right when you walk in are easy to figure which items and details need to be fixed. Also, find out which uncommon items need permits to replace, not just the expected ones.
You should have cash and you will need to close in 30 days or less. If this is too much trouble, you perhaps should not house flip in Portland. Unless you can find private one off deals where you have no competition .
Set your offering ammount below the market level and market your property. Enable a land operator to list your home on the Multiple Listing Service (MLS) to get some foot traffic.
Dont's
Avoid houses with complex issues that are hard to spot or diagnose.
That said do not rule out anything prior to at least a cursory on the ground inspection.
Have the contractors lined up before buying the house and get a good deal on it. Add atleast 10% to the total cost estimate as a safeguard to unforeseen problems.
What to Look Out For
Stay away from Eastern neighborhoods that are further from I-5, as these are potentially more crime filled.
Because it rains a lot in Portland, instability in the soil is an issue usually related to hill slide or the water table. Portland has some areas that you have to pay particular attention to the topography for a number of reasons, one of which is where homes have been built on or near sides of hills.
There are also some areas of the city that have water problems in basements due to this same situation.
Leaked contaminants from asphalt can be an issue so be sure to get soil and water tests done. If you buy a property, you will inherit the clean up costs from any contaminants in the soil.
There are some areas of town that have high water tables that create water problems in the basement.
Look out for flood zones because there are settling issues for homes built in low areas that have flooded. Sinking problems take a very long time to sort themselves out, if ever.
In fact, many homes in Portland older than 40 yrs to have some settlement issues.
You need to take a good look at the property, have a good inspector, and follow up with any suspected issues.
Be aware that the west hills and surrounding areas have had some slope instability issues.
If applying for an FHA loan, the answer can be found in the FHA single family loan rules. On page 146, it says "A property that is being resold 90 days or fewer following the sellers date of acquisition is not eligible for an FHA-insured mortgage." A flipper can use this in Portland for funding a house flip, but it must be longer than 90 days.
Real Estate Flipping and Investing Groups in Portland
Northwest Real Estate Investors Association
Northwest Real Estate Investors Association
15532 SW Pacific Hwy, C1B PMB 312
Tigard, OR 97224
Phone: (503) 482-6955
https://www.northwestreia.com/Default.aspx
Oregon REIA
1430 Willamette Street #103
Eugene, OR 97401 Phone: (541) 393-2508
https://www.orreia.net/Contact.aspx
RareBird Investor Network
503-451-0545
800 NE Broadway St. Portland, OR 97232
https://rarebirdinvestors.com/contact/
Portland House Flipping Outlook
With a growing population, limited housing supply, low taxes and plenty of houses to rehab, Portland is a good place to invest in house flipping. By being prepared and using all available resources to guide you, flipping houses in Portland can be a very lucrative endeavor.
Did you find this useful? If so please share and comment!