Tools for house flipping can be critical to making the process efficient and profitable. One of which is a house flipping spreadsheet.
However, not all house flipping spreadsheets are the same.
Some House Flipping Spreadsheet Features You Need:
Deal Analysis
Project Management
Accounting
Reporting
Estimate Repair Costs & Analyze the Maximum Purchase Price
Creates Scopes of Work, Manage Project Tasks and Resource
Create Project Budget, Track Project Expenses & Project Profitability
Total project costs
Total Fixed Costs
Total Repair Estimate
Additional Items include permit costs, contractor's overhead, and other contingencies that need to be considered.
Do not just look for a simple deal analysis calculator with a repair cost calculator and purchase price calculator. This will work, but for more serious projects, this may not be enough. You need a good house flipping spreadsheet program with a complete set of tools. Look for a program that is easy to use, robust, and fully customizable.
Finding a program that already has a lot of positive reviews so you know it is a proven product is a good practice.
Getting software specifically designed for flippers, wholesalers, and holders, and not just general small businesses is best.
It should work well on PCs, desktops, and laptops. Make sure it is compatible with the type of computer operating system you have.
Getting software with a One-Time Fee is always nice. Having No Recurring Costs or Upgrade Costs is also helpful.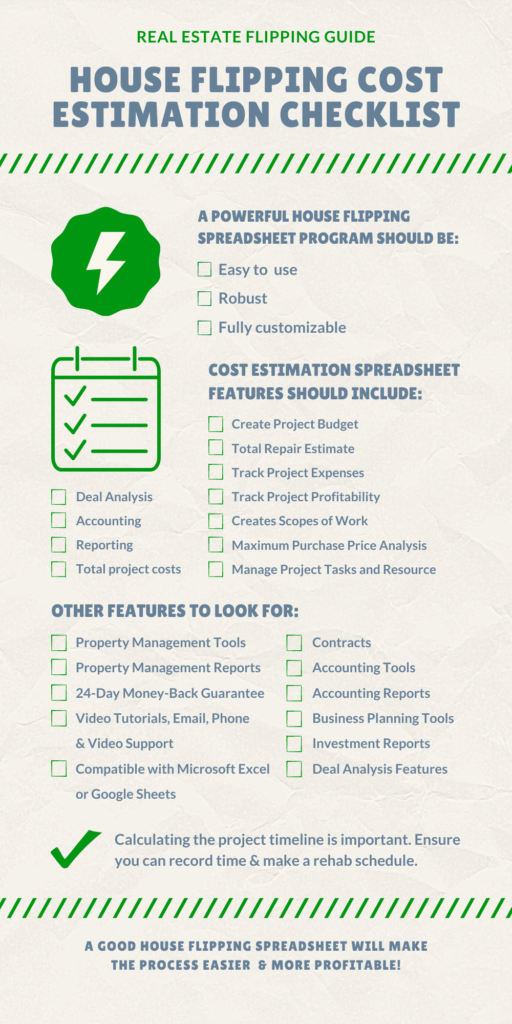 Other features that are useful:
Deal Analysis Features
Video Tutorials, Email, Phone & Video Support
24-Day Money Back Guarantee
Compatible w/Microsoft Excel or Google Sheets
Investment Reports
Property Management Tools
Property Management Reports
Accounting Tools
Accounting Reports
Business Planning Tools
Contracts
How long the project will take is important to calculate, so make sure the program has a section to record time and make a rehab schedule.
Having a house flipping spreadsheet with all the tools a flipper will need will make the process easier and more profitable. Without one, risk of loss increases and decreasing risk is a large part of investing. Thus, both new and experienced house flippers should get a house flipping spreadsheet that has a complete set of useful tools included.
Learn More…
Learn How to Use a Flip House Cost Estimator here>
< Back to Cost Estimation for House Flipping | NEXT: When to use a renovation cost estimator for house flipping?