House flipping investment groups are independent investors who purchase real estate to flip, wholesale or buy & hold. Many groups hold meetings with other investors to learn about real estate flipping opportunities and potentially invest in them together.
Members of investment groups pool in their money and make investment decisions together. This is often more profitable than house flipping, wholesaling, or buy & hold investing on your own. These investment groups provide an excellent way to discover deals and partner with other professional real estate investors.
We plan to update this list of house flipping investment groups regularly so it's a comprehensive and accurate resource for you.
Arizona
Arizona Real Estate Investor's Group
This group is open to beginners, intermediate, and advanced investors who support each other in reaching investment goals. This group meets on a weekly basis. Visit more meetings to learn how to reach your investment goal.
Arizona Fix-Flip House Group
This is a great place to learn about house flipping. You have an opportunity to meet like-minded investors and entrepreneurs. Several house tours are offered every month free of cost. It's a great place to learn how to flip and network with members and that is what house flipping investments are for.
Arkansas
Arkansas Real Estate Investors Association
This is a great investment group in Arkansas, so if you're looking to start real estate work such as house flipping in the area, this may be the one for you.
California
Orange County Real Estate Investors Club
This is a meet-up in Newburgh for networking and education in the local real estate industry, which could be where you find the right house flipping investment groups.
Riverside County "Fix and Flip" Meetup
Very few actually get around to house flipping because they don't know how to get started with the process. If you come to this meetup, you'll find that the process is made easier. Riverside County "Fix & Flip" Meetup aims to make "fix and flip" investing as easy as possible. The fix and flip process is broken down into four easy-to-understand steps: 1. How to find houses to flip 2. How to finance the purchase 3. How to fix your house and 4. How to flip your houses quickly. You can learn the basics here and network with investors.
San Diego Investment Club
Founded by Darrell Kucan, this group brings together fellow investors in an informal setting to share ideas and thoughts. This is a great place to meet the right investor for your house flipping venture.
High Desert Real Estate Investment Group
If you're looking to network with like-minded investors in High Desert, CA, then this might be one of the best house flipping investment groups for you. This group shares information and helps one another succeed in investment ventures. Housing flipping is among the many topics commonly discussed here.
The Outspoken Investor
Owned by Tony Alvarez, who is a successful real estate investor, The Outspoken Investor offers the guidance of an REO mentor and can help you succeed in your next house flipping venture.
Colorado
Fix & Flip – Real Estate Investors of Denver
This is a real estate flipping group for anyone looking to fix-and-flip properties in the Denver area. Here you can meet like-minded people and learn more about deals regarding house flipping and perhaps find adequate investment as well.
Florida
Miami Dade Real Estate Investors Association (MREIA)
The Miami Dade Real Estate Investors Association is a networking and educational platform for real estate investors, professionals, and both seasoned and newbie homeowners. The mission is to educate not only our members but also the community and to motivate people who are interested in real estate to achieve their desired success. Given that the education offered is for all spectrums of real estate, this is a great place for your house flipping venture.
Georgia
The Beginning Investor's Group (BIG)
The Beginning Investors Group (BIG), hosted by Dustin Griffin, is an educational and networking group for new investors who are just starting out in real estate investing. It comprises of local and national members and is a great place to find house flipping investors.
Illinois
Battle the Odds Investment Club
Battle the Odds Investment Club, located in Chicago, has worked extremely hard for over a decade in rehabbing homes in the Virginia, DC, Chicago, and Boston markets. This would be a good club to join to get real estate expertise and generally learn about house flipping.
Minnesota
Minnesota Real Estate Investors Association
The largest REIA in the Upper Midwest and voted the top REIA in Minnesota by the Top Association Leaders and National Speakers in the Country, Minnesota REIA might be the association for your house flipping ventures.
Nevada
Silver State Private Capital
Silver State Private Capital is a direct investor in residential homes in Las Vegas. This investment group purchases homes for cash in any condition; then repairs and holds them, or flips them to other investors. They have a long history of helping sellers with the quick sale of their homes with minimal hassle.
New Jersey
New Jersey Real Estate Investors Association
Established in 2003, New Jersey REIA invites investors, realtors, bankers, and basically all individuals involved in real estate work. You might want to become a part of this network to find the right house flipping investment group.
New York
Brooklyn Flippers and Funders Meetup
This meetup is a Real Estate Networking Group that allows members of the real estate community to connect with one another on a large scale.
Queens Real Estate Investing Club: House Flipping In Queens and Long Island
This club is a great place to meet friendly investors and agents who specialize in first-time buyers and sellers. It may be the place for your house flipping venture to kick off properly.
Ohio
Fix-Flip House Group Ohio/Kentucky
This is a great place to be if you want to learn more about house flipping or if you're looking for good real estate deals in Ohio for your fix-and-flip ventures. This is also a good opportunity for you to find an investment group.
Tennessee
Memphis Real Estate Investors Meetup
This group is for anyone involved in any aspect of real estate – from wholesale to flipping. New or experienced investors are both welcome.
Texas
Real Estate Investing Mentor Group
Real Estate Investing Mentor Group is a house flipping and real estate investing education and mentoring program modeled after some of the most successful and well-known real estate experts across the globe. This could be one of the better house flipping investment groups. Stephen John, the managing partner of this group, began investing in 1996.
Washington
Real Estate Investor's Association (REIA) of Washington
REIA of Washington is a group of local real estate investors and other real estate professional volunteers, who meet regularly to stay informed, share knowledge and resources, network, build real estate investing teams,
exchange information. They also purchase, sell, manage, rent, and renovate the property. Like some house flipping investment groups, the focus here is mainly on wholesale, flips and other forms of real estate transactions.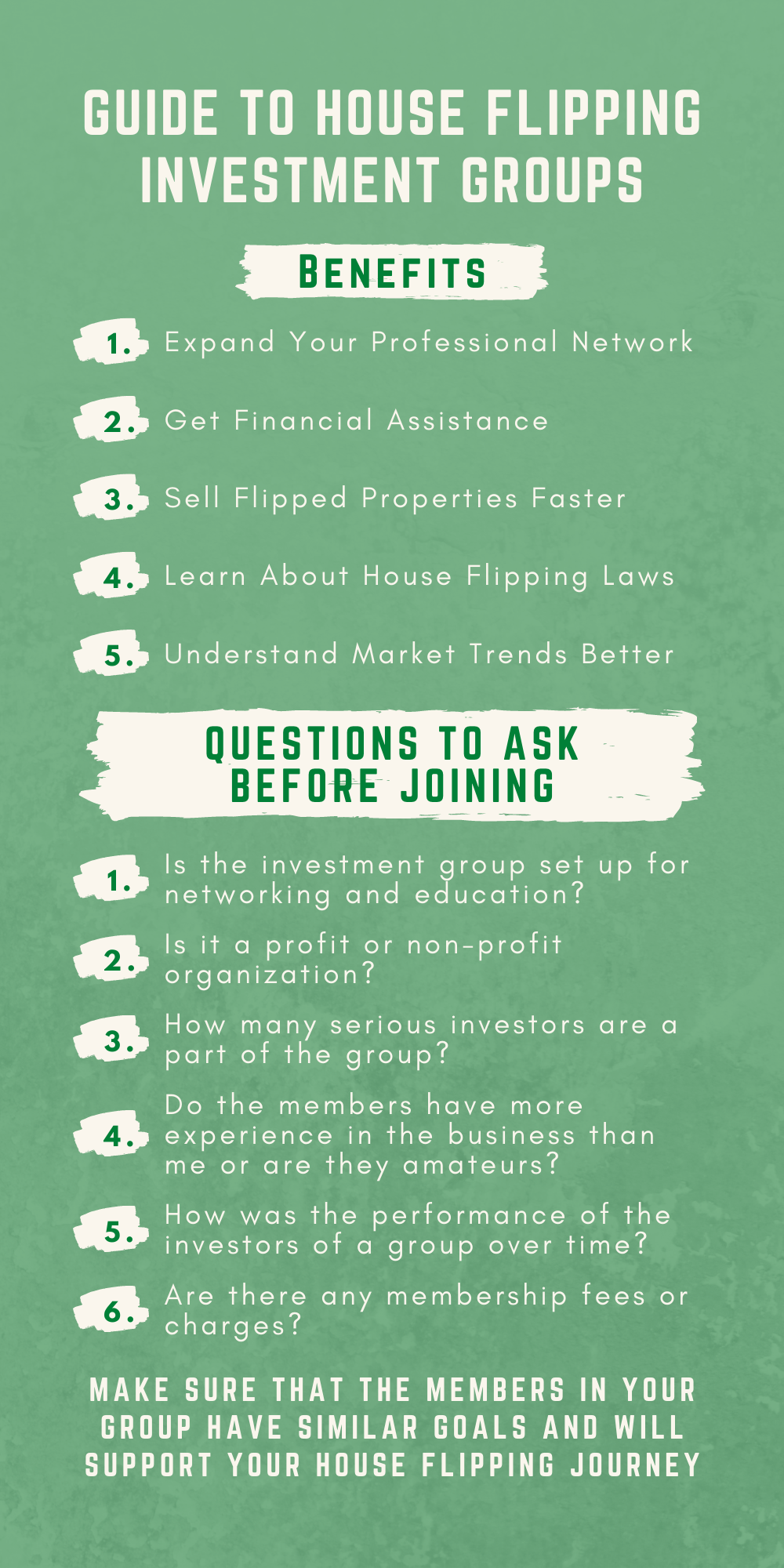 Why Should You Work with House Flipping Investment Groups?
Perhaps the greatest benefit of joining house flipping investment groups is the education offered. When a bunch of investors comes together to share ideas and information, there is an abundance of information available. Every individual from the investment club adds value that can be shared with the other members.
Investment Groups are an excellent way to remain focused, gain experience and increase investment learning. Social interaction with like-minded individuals adds an important and enjoyable dimension to the experience of house flipping. New investors find that a club is a supportive and safe environment to learn the basics of investing and experienced investors are able to get opportunities to sharpen their investing skills.
Also, when you join house flipping investment groups, you can avoid the fees and commissions of investment advisors. Perhaps the best thing about investment groups is that you know for sure whether or not to invest in a particular property due to the many members involved. This way, unnecessary losses are avoided and you are able to make great financial decisions while house flipping. You are also bound to get higher returns by joining a house flipping investment group than you could have achieved on your own.
Learn More…
Learn more about house flipping investment groups for beginners >
More benefits of working with real estate investment groups can be found here.
Here's another list to find the right house flipping investment groups –
https://www.meetup.com/topics/fix-and-flip-real-estate/all/