Is it possible to flip houses with no money down?
While house flipping may help you earn big, fat profits, you need to have a certain sum of money to fund the project in the first place.
Just like any other business, house flipping doesn't start with empty pockets. It requires an investment on which it may bring you a return.
But what if you don't have the capital to invest in the project?    
While it is true that you need to invest something in the business, it doesn't mean that you have to have a large sum of money saved up on your own to get started.
Yes, we are implying that it really is possible for you to flip houses with no money down!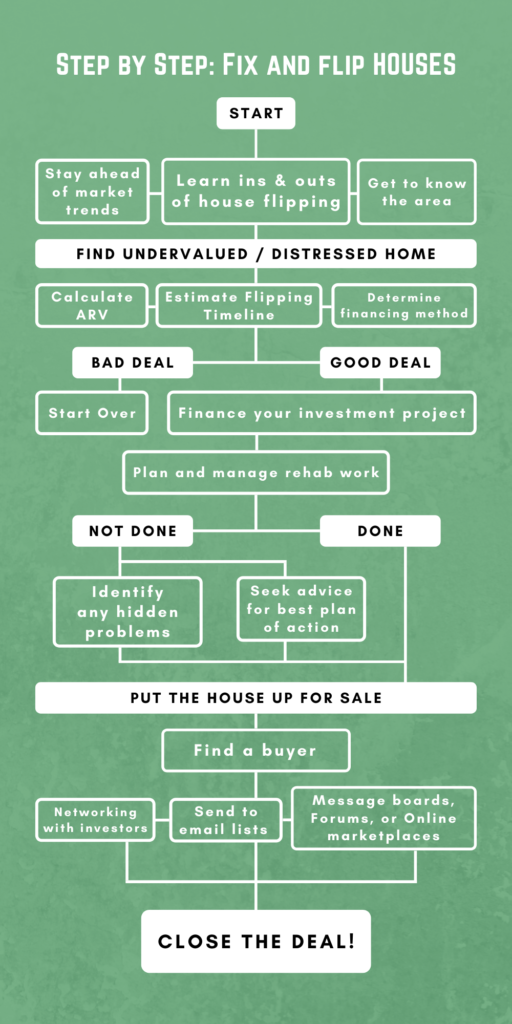 Before you move on to the 'how' part, let us make it clear that you still need to pay for each property – it's just that you won't be using your own money for the investment. This is perhaps the best way to start your house flipping journey.
You don't necessarily have to be independently wealthy, you just have to be smart enough to know where to get the funding from.
Here are some easy ways to flip houses with no money down.
Reverse Wholesaling
Reverse wholesaling is perhaps the easiest and the most secure way of funding your house flipping project. Here's what happens:
A real estate wholesaler signs a contract with the seller to buy the flipper property at a discounted price. Then the property is marketed at a higher price and the wholesaler assigns the contract to the new buyer without taking the title. They earn from the initial contracted price as well as from the amount paid by the new buyer. This is ideal for beginners, as they make money by acting as an intermediary. With reverse wholesaling, you can expect to be in, out, and paid in just a few days.
Having to take order requests from property investors and finding suitable deals for them means you don't need your own cash to buy the properties. You don't even have to take care of the repairs and renovations because that's the job of the end buyer.
Is Wholesaling Right for You?
While wholesaling is indeed an ideal option to flip houses with no money down, it may work best for people who have an existing network of real estate investors who are on the lookout for house flipping deals.
To earn maximum profits, a wholesaler must have knowledge of the real estate market, contracts, repair costs, and investor's needs.
Pros of Wholesaling
Wholesaling offers the following advantages:
Provides entry into the real estate world with little to no money
Doesn't require good credit
You don't have to pay the closing cost, repair cost, or down payment
Poses little risks if done right
Allows you to work on more than one projects at a time
Cons of Wholesaling
The following are the cons of reverse wholesaling:
Requires a considerable knowledge base regarding contracts and the overall process
You need to have a network of active investors willing to buy your contracts
The profit earned is less than what the investor gets
Requires an exit strategy for each project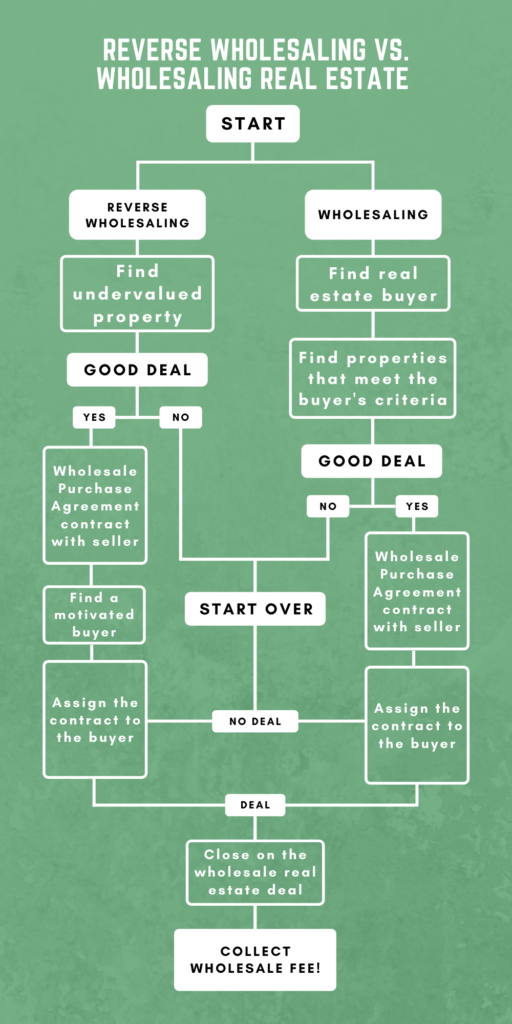 Using Credit Cards
One of the most common financing options to flip houses with no money down is to use your credit card. However, you need to be careful while dealing with debt financing. If you're someone who is good with numbers and understands the market well, you'll be good to go.  
The best thing about house flipping business for beginners is that some properties are cheap enough to be covered by your credit card. You may only need to arrange the down payment, construction costs, and closing costs. Other ways include getting a new mortgage, personal or home equity loan, or a combination of all these options.
Getting in Touch with Private Investors
A private moneylender allows you to purchase, renovate, and sell a property with no money down. In exchange for their loan, you return an agreed amount of money to them after the project is over. These lenders want to invest in real estate and have the money to do so.
Qualities of an Ideal Private Investor
Your investor should be a qualified kinder who has access to either cash or loan products.
When it comes to the purchase, repair, and selling of a property, there must be complete transparency between you and your private investor. Hence, your lender should be a good communicator who can lay all the cards on the table.
Understands the Real Deal
It is not uncommon for investors to have unrealistic expectations. Make sure your lender understands all the sweat equity partner does. For a successful partnership, it is crucial that you both are aware of one another's responsibilities and scope of work.
More often than not, private investors offer an attractive sum of money to help you flip houses with no money down. They only care about the deal without taking any interest in your personal income, credit history, or assets.
Looking for Equity Partners
If you don't want to borrow money or have debt in your name, this option is perfect for you. Equity partners provide the money for purchasing property while you're responsible for finding, repairing, and flipping the deals. Once the project is complete, the profit is then shared between you and them.   
Your equity partner can be anyone – from any of your family members and friends to a local investor you've met through real estate networking.
Using Hard Money Loans
House flippers often use secured short-term loans to fund their house flipping projects. Hard money lenders focus more on your potential and experience of house flipping than your credit history. If you have home equity, you'll easily qualify for a hard money loan.
Perks of Getting Hard Money Loans
Here are some convincing reasons to get a hard money loan to flip houses with no money down.
With quick approval, these loans allow you to make up your mind whether you should move forward with a deal or not.
Offering quick funding times, hard moneylenders allow you to close a deal quickly and begin the repair phase as soon as possible.
Neither will you have to give verification of your personal income nor require a high credit score to qualify for hard money loans.
With interest-only payments, these loans don't overburden you with due payment on a monthly basis.
Is a Hard Money Loan Ideal for You?
It is important to note that hard money lenders loan only to individuals who have assets to offer as collateral. In most cases, the property being purchased is used as the "hard asset" to secure the loan. This option works well for investors who have one or more properties in their name, and for homeowners with significant equity in their property.
Seller Financing
Seller financing and sweat equity are now becoming popular options to flip houses with no money down. Even if you have a bad credit history, you can get the seller of a property to offer owner financing. Considering the tight mortgage market conditions, this may be a smart way to begin your house flipping journey. If you're ready to do the hard work of renovating the property using modern tools and materials, it won't be a problem for you.
Finding the Ideal No Money Property
To flip houses with no money down, you should be able to find a financing source. But the story doesn't end there. After finding the ideal funding source, you should also be able to smartly approach them with deals that excite them. Therefore, knowing how to identify good no-money-down opportunities is the key to flipping houses with empty pockets.
Investors who purchase wholesale properties and private investors take the neighborhood, local amenities, and school ratings into consideration.
Hard money lenders focus more on the numbers as well as the investor's experience and exit strategy.
Ideally, you should always look for a property that is located in a stable or developing neighborhood with easy access to local amenities. Your house-flipping project should offer enough room for all parties involved to earn a profit when it's flipped.
Which of the aforementioned options suit you the best to flip houses with no money down?  
Learn More…
Learn more about how to maximize your house flipping profit margin here>
To get an in-depth understanding of the real estate wholesaling process, read here.
If you want to learn more about how a hard money loan works, read here.
Did you find this useful? If so please share and comment!