Anyone who has gone through a real estate renovation project from the beginning to the end will tell you that it'll most likely take longer and cost more than you budgeted. That's why housing improvement grants are a great way to help finance your renovation project. Of course, you need to know where to look for them, how to qualify and apply, and how you can use the funds. That's what this article is all about. Read on to find out more about these grants and how you can benefit from them.
Steps to Find House Improvement Grants
Before you can apply for any renovation grants, you have to find them. It can be daunting if you don't know where to look – luckily, there is plenty of information on the internet, both on governmental and non-governmental websites. One of the main federal resources for real estate grants is the U.S. Department for Housing and Urban Development (known as HUD for short). Their website is HUD.gov, and you can find all the information you need and then some over there. As with many government websites, however, it can be confusing and overwhelming to navigate. That's why calling or visiting your nearest state HUD office and talking with a representative of the agency can be much simpler.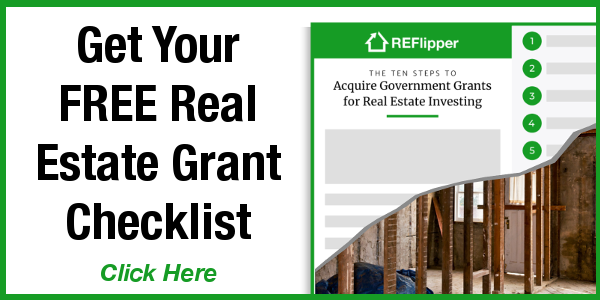 Another great resource is the National Residential Improvement Association (NRIA). They are a non-governmental association of vetted contractors that helps homeowners find out about rarely advertised housing improvement grants which are often obscured in the labyrinth of state and federal bureaucracy. These can be grants or other financial assistance programs such as low-interest or government-backed loans, tax credits, and more. You'll have to fill out an online application, and an NRIA representative will get back to you within 48 hours to consult you on the grants potentially available to you. This service is free – you don't have to pay anything.
If you're in a rural area, you can also look into home improvement grants offered by the U.S. Department of Agriculture (USDA). You can receive a maximum of $7,500 to address health and safety hazards (common in old buildings) or improve home accessibility. While the maximum amount you can receive as a grant is $7,500, you can also receive up to $20,000 as a loan and combine the two for a maximum of $27,500. 
Veterans and Native Americans can also apply for programs meant to support these groups as well, such as the Home Improvements and Structural Assistance (HISA) grant and the Housing Improvement Program (HIP), respectively. 
For a list of grant programs for investment properties, check out our in-depth article on the topic.
How to Qualify for Home Renovation Grants
After you've found a grant that you are interested in, you have to check if you qualify for it. While grants don't have to be repaid, there are often rules about who can apply for them and for what purpose they can be used. For example, the above-mentioned USDA grant can be used to address health and safety hazards – but you have to be over the age of 62 and have a family income below 50% of the area's median income. That immediately narrows down the field of eligible homeowners. That's the unfortunate reality and another reason why it's good to talk to a specialist from the HUD or NRIA – they will save you the disappointment of spending time and effort to find grants only to discover that you don't qualify for them.
Checklist for Using a Home Improvement Grant 
Define what you want to use a grant for

Most grants have specific criteria regarding what they can be used for. A grant for fixing health and safety hazards, for example, can't be used to fix leaky plumbing unless it presents a health and safety hazard. A consultation with a specialist can help you define what you need.

Get cost estimates for the project

Many grants require you to include an estimated cost of the project in your application for the grant.

Find grant programs that you may be eligible for

Take advantage of resources meant to help you navigate grant programs, such as your nearest HUD office, your state's housing authority, or the NRIA.

Apply for one or several grants

Check that you have all the necessary forms and documents ready. Make copies.

If approved, make sure to keep records of how you use the funds and use them only for their intended purpose.
Application Steps for Home Improvement Renovation Grants 
Before applying for any home improvement grant, make sure to check your eligibility for it. You don't want to spend time and effort on an application only to realize at the end (or when you receive a rejection) that you weren't eligible in the first place. Sometimes this is impractical, as you can't be sure whether you're eligible or not. But if you think you are, it can't hurt to try.
Register a Data Universal Number System (DUNS) number.
This is a nine-digit number that the federal government uses to identify each entity that applies for grants and track how funds are distributed.
Register through SAM.gov
SAM stands for System for Award Management. This is a necessary system if you want to do business with the U.S. federal government. 
Register through Grants.gov
This is necessary to access the majority of HUD grants on offer. 
To apply for the Rural Housing Repair Loans and Grants program, you can go to the USDA's online services page (click on the "Rural Development Home Loans" link) or use their locator tool to find the nearest Rural Development office and apply there in person.
Requirements for Renovation Grants
Requirements for housing improvement grants vary from program to program. Generally speaking, you won't be able to receive a grant for cosmetic or aesthetic renovations. Instead, most grants are meant to address quality-of-life issues such as accessibility for the disabled, address health and safety hazards, structural issues, or other serious problems with the property.
As with all federal funding programs, there is a fair bit of paperwork required when applying for grants. Make sure to "measure twice and cut once" – double-check, to the best of your ability, that you have all the necessary forms and have filled them out correctly before handing them in. This isn't easy to do, but it's worth putting the effort in, as it can take a while to receive a reply – whether approval or rejection. If there is a deadline for grant applications, your document preparation can mean the difference between approval and missing a grant opportunity due to a technical fault in your application.
You will have to keep records and provide information about how you used the grant funds. This is why you have a DUNS number, but you should save all receipts and invoices in any case. 
For the most precise information about the requirements of a renovation grant that you're looking to apply to, consult with the relevant grantor or their representatives. That's what they're there for!