Grants are a great way to help cover the cost of purchasing or repairing a property. Some people, though, wonder if they're too good to be true – they wonder if they'll ever have to pay back real estate grants that they receive. Answering this question is good if only for peace of mind if you want to apply for a grant. This article looks at whether you have to repay real estate grants and under what conditions you'd have to do so.
Do Real Estate Grants Need To Be Repaid?
The short answer is no; real estate grants don't need to be repaid. Grants are not loans. The idea is straightforward: grant money doesn't have to be repaid as long as you fulfill the conditions of the grant. If you knowingly or unknowingly break these conditions, you may be required to pay back part or all of the funds granted to you.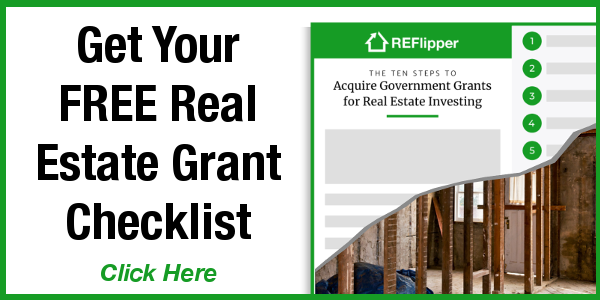 When Do You Have To Pay Back A Real Estate Grant?
You have to pay back real estate grants when you can't fulfill the conditions of the grant. These conditions vary but usually are to do with relocation or changing primary residence, refinancing the home, changes in family composition, or, in some cases, change of employment.
You can find an example of this repayment clause in the conditions of the U.S. Department of Housing and Urban Development (HUD) Good Neighbor Next Door (GNND) grant program. 
The program provides a 50% discount on government-owned single-family home purchases for people working in eligible professions (firefighters, teachers, law enforcement officers, emergency medical technicians) who serve the people of the area where the property is located. When you sign the 50% discounted mortgage, you also sign a note and a second mortgage, which equals the sum of the 50% discount. 
After three years of living in the property, the grantee is released from the second mortgage. If, however, you need or want to sell before the three-year period is up (the HUD page mentions job relocation, family composition changes, or refinancing as three potential reasons), you'll need to go through the HUD Loan Servicing Contractor system. Of course, this means that you'll be on the hook for the second mortgage. In addition, you won't be released from the second mortgage if you haven't completed and returned required annual certifications, if you're under investigation by the Officer of the Inspector General, or if you haven't complied with all GNND regulations.
This is just one example of the conditions when you would have to repay a government real estate grant. Each grant program has its own regulations and conditions, so make sure you can stick to them when you're planning to apply for a specific grant. 
Do Government Grants Need To Be Refunded?
Government grants do not need to be refunded unless you break the conditions of the grant. Government grants also require a good amount of reports and documentation, and not providing these can count as a violation of the terms of the grant. Make sure to stay up-to-date on your paperwork, or you may be penalized even though you did not act in bad faith. 
Do I Have to Repay Grants on Ineligible Expenses?
In short – yes, you do have to repay grant money if you spend it on ineligible expenses. Depending on the grant's details, you have to repay part or all of the grant; or pay a fine. But the end result is the same – if you use the grant money on something that it's not meant for, you will have to repay it. That's another reason to double-check and be very sure about what you can and cannot use the grant money for.
What Types Of Real Estate Grants Do You Have To Pay Back?
You do not need to pay back real estate grants as they are not meant to be repaid. However, if the grant is a discount, such as the 50% discount on a home mortgage through the GNND program, you would repay a sum of money. It would just not be as large as if you were repaying the full price. Other grants, such as the Section 504 Home Repair Grant for rural properties, do not need to be repaid. These grants are funds granted to you for a certain purpose, such as addressing health and safety hazards.
Real Estate Grants vs. Loans
While you don't need to pay back real estate grants, you might find loans to be a better alternative for your needs. While "free," grants are often limited in scope, eligibility, and the amount of money available. Government-backed loans, such as those available through the Small Business Administration, are often low-interest, long-term (up to 30 years), and can provide a much larger injection of cash than a grant would. Regardless of what is right for your needs, make sure to carefully read the terms and conditions and stick to them. Having to pay back a real estate grant because of a misunderstanding or oversight on your part can be avoided if you have all your ducks in a row.