If you own a multifamily residential building that needs work done on it, using grants to rehab them can help you cover the costs and is a great opportunity if you can make use of it. Of course, each grant has its own criteria for who and what properties can qualify as well as what it can be used for. This guide is all about multifamily property rehabilitation grants, and you'll find out all about how to find, qualify and apply for, and use them.
How to Find Grants for Rehabbing Multifamily Properties
The first step in rehabbing multifamily properties using grants is finding them. This can be easier said than done if you've never taken advantage of government or privately-funded grants before. Many (if not most) grants are not advertised. Thankfully, though, most of them can be found online. Even if you're not able to apply for the grants directly (it might be that the funds go through local authorities and non-profit organizations), you can still get an idea of what to ask about at your local housing authority. The first place where you can look is on the U.S. Department of Housing and Urban Development (HUD) website. The HUD website has a whole office for multifamily housing issues, and their multifamily housing grants can be found on this page.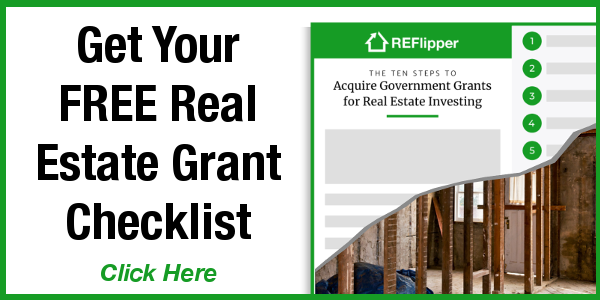 If you want to dig deeper than just national-level housing grant programs, you can also simply open up Google and search for "multifamily housing grants in X," where X is the name of your state or city.
Finally, you can and should consult your local housing authority or HUD office directly, as they will be up-to-date on recent developments and will know which programs are open for applications. They may also be able to tell you which non-profit organizations are working with government authorities and receiving funds so that you may contact those organizations directly.
Federal Grants for Rehabbing Multifamily Properties
Here are some federally-funded multifamily housing grants to rehab your property with. Please note that the following is not an exhaustive list but some examples of national-level government-funded grant programs.
Special Needs Multifamily Housing Grants:
Section 202 Supportive Housing for the Elderly

Section 811 Supportive Housing for Persons with Disabilities

Assisted-Living Conversion Program (ALCP)

Demonstration Program for Elderly Housing for Intergenerational Families

Emergency Capital Repair Program (ECRP)
The federal government also provides funding for supportive services that can help guide you towards grants that you may be eligible for as well as apply for them:
Multifamily Housing Service Coordinators

Congregate Housing Services Program (CHSP)

Neighborhood Networks
Apart from the HUD, the U.S. Department of Agriculture (USDA) has a Rural Development program that also has some grant programs listed:
Farm Labor Direct Loans & Grants

Housing Preservation & Revitalization Demonstration Loans & Grants

Housing Preservation Grants
How to Qualify for Multifamily Property Rehab Grants
Due to the fact that grants do not have to be repaid, they are often less easily available and more specific and restrictive regarding who can qualify for them. Most multifamily housing grants are geared towards low to moderate-income property owners or residents, with age and disability often playing a role. For example, many of the HUD programs are geared towards rehabbing multifamily residential properties for the benefit of elderly residents. The Assisted Living Conversion Program (ALCP), for example, provides owners of properties with funds to convert some or all of the units into an Assisted Living Facility or Service-Enriched Housing. The requirements for grant programs vary, so read up on them carefully. You don't want to waste your time applying for a grant only to find out that you don't qualify. 
How to Apply for and Use Multifamily Property Rehab Grants
Depending on the government institution or non-profit organization distributing the grants, you may have different application processes. 
If you want to apply for a HUD grant, there are three main steps you have to take:
Register a Data Universal Number System (DUNS) number.

This is a nine-digit number that the federal government uses to identify each entity that applies for grants and track how funds are distributed.

Register through SAM.gov

SAM stands for System for Award Management. This is a necessary system if you want to do business with the U.S. federal government.

Register through Grants.gov
This is necessary to access the majority of HUD grants on offer. Other programs, such as the USDA Rural Development grants, have slightly different application processes. The important thing is to dot the i's and cross your t's – pay careful attention to the details when you're applying. Government bureaucracies will disqualify your application on the basis of an overlooked field or missing documents, so read the terms and make sure you do everything right.
The same goes for using the grants to rehab your multifamily property. Use grant money only for eligible activities listed in official documents. If you're unsure, consult with a representative of the organization you're receiving the grant money from. Worse than being denied a grant is having to pay it back because you used the money on something that it wasn't meant for. Keep receipts and records of everything, and hand in any required reports to the grantor on time, as missing deadlines can also mean a penalty for you.