'Are wholesale houses better than foreclosures?' is definitely a tricky question. It can't be answered in a simple 'yes' or 'no'. The reason is that foreclosures have their own pros and cons.
Often, wholesalers tap into foreclosures to make money. In other words, wholesalers contract foreclosures and then wholesale them to cash buyers to take quick profits. So, both options are viable, depending on the situation and circumstances.
Let's dig in deep to understand the pros and cons of foreclosures.
Advantages and Disadvantages of Foreclosures
Before we share with you the pros and cons of foreclosures, here's an overview of the process.
A foreclosure can be best described as a legal process where the lender takes charge of the property. The lender evicts the homeowner and then sells it, if the homeowner is still unable to make mortgage payments.
Foreclosures derive their legal basis from a deed of trust contract or mortgage. This enables the lender to use the property as a security or collateral in case the owner fails to make timely payments.
Some of the benefits of foreclosures include:
Disadvantages of foreclosures are that:
The market can be highly competitive.
Foreclosed homes can be tricky and riskier as compared to traditional real estate houses as the foreclosed proceedings may vary from state to state.
Depending on where the property is in the foreclosure process, wholesalers can contract to sell it. They can approach the owner of the home directly or contract it with the bank. However, the bank may not always be motivated to resell or assign properties before a specified time period. Therefore, you must conduct due diligence to understand the bank's foreclosure contractual language to ensure that wholesaling is an option. This means that wholesaling foreclosures may not always be acceptable by a bank.
Find Foreclosed Properties In Your Area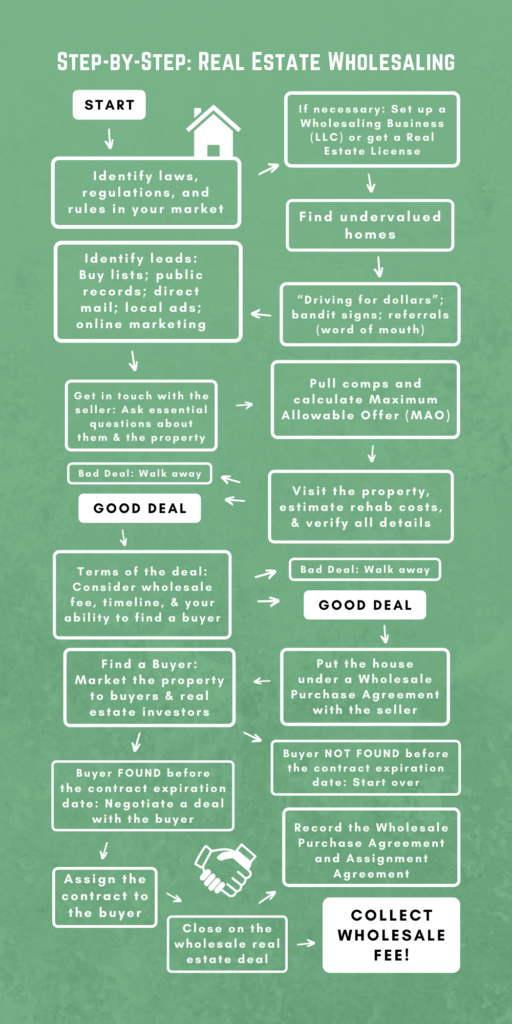 Other Factors That Can Influence Your Decision
Also, real estate wholesaling is definitely a better choice for those who have little or no capital to invest or those who are looking to make fast money. When wholesaling houses, you just get in, get out, get paid, and get on to the next. However, if you're looking for foreclosed homes, then the process can be lengthy and complicated.


Sometimes, a bank may not accept the contractual offer. Also, there may be high competition for the foreclosed house. This can also reduce your chances of getting the bank to contract the property to you as a wholesaler. Besides this, as the bank has plenty of offers to choose from, they may drag out the buying process and reject your offer.
Therefore, if you're new to the real estate industry, we'd suggest wholesale houses to you. Real estate wholesaling is safe, easy, and less risky as compared to dealing with foreclosed homes.
Back to Wholesaling Houses | NEXT: Are Wholesale Houses a Scam?
Did you find this useful? If so please share and comment!