Foreclosed homes usually have things wrong with them below the surface that may not be found until after the auction. These issues can kill the profit from a foreclosure deal before you ever get started fixing up the home for resale.
It is crucial that a buyer research and know as much as possible about the details of a property BEFORE they purchase a foreclosure at auction.
When a buyer sees a home for sale, they are generally looking at its aesthetic value and how the home fits certain specifications. Because of its character and visual appeal, a home's major construction defects may be hidden from view. These can ultimately cause an investor to lose profits due to the expenses incurred in repairing these construction defects.
There are three things you MUST know to avoid losing money on a foreclosure purchase: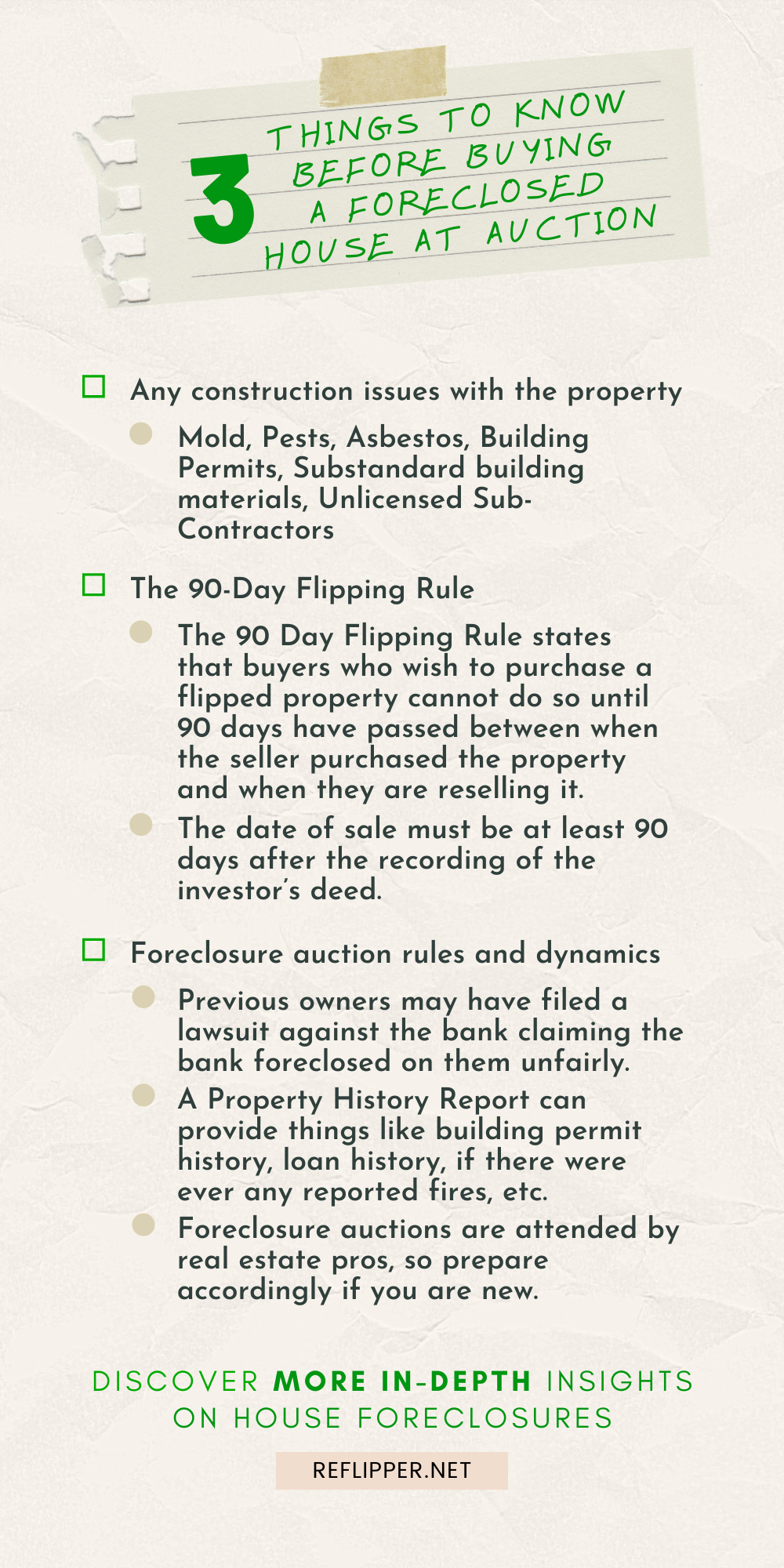 Construction defects that can cost large amounts of money to repair
The 90-Day Flipping Rule
The nature of the foreclosure auction itself
Find Foreclosed Properties In Your Area
1. Foreclosure Construction Defects
Mold
Some homes owned by banks will sit empty, without any heating or air conditioning, for months or years before and after a foreclosure. Mold may grow and spread in the home if there were any broken or unfixed plumbing or liquids were spilled. Mold remediation can cost tens of thousands of dollars.
Pests
Banks will rarely pay for pest remediation work, and buyers will be purchasing the home as is. Termites or powder post beetles could be devouring the structural integrity of the home, even while the previous owners were still occupying it. Thus, the interior walls could be supported by rotting wood studs. This is a very serious and costly problem to remedy.
Asbestos
Asbestos could be lurking underneath the flooring in the kitchens and bathrooms, especially in homes over 40 years old. Previous owners might have covered old asbestos-based flooring by laying laminate or ceramic over it. If the underlayment is not securely fastened to the subfloor, it could break free over time, leaving the repair work to the new owners. Asbestos can be a problem around heaters, pipes and other areas typically hidden within the walls. Once rehab starts and this is uncovered, the area must be sealed off and remediated. A very expensive problem.
Building Permits
Not having building permits for expansions to the home can lead to trouble down the road for new owners. Adding or removing a room or making any type of large improvement may have required a permit that was never obtained by the previous owners. The current owner being foreclosed upon will not likely disclose every job performed on the home. So, new buyers should do their best to find out if required building permits were obtained, or if they will be needed to fix up the home.
Substandard Building Materials
The current owner/investor may have purchased the cheapest low-end appliances, cabinets, and inexpensive plumbing fixtures or cheap dual pane windows to save money. A large number of homes built in the '80s and '90s had plumbing made of weak plastic. These will need to be replaced throughout the property, potentially causing high-cost repairs for the home to be marketable.
Unlicensed Sub-Contractors
It's important that foreclosure flip house investors make sure that their contractors only use licensed subcontractors. When a contractor hires undocumented or unlicensed workers and pays them poorly to perform complex jobs they were not trained for, this usually leads to sub-standard work. This can lead to failed property inspections and costly rework later on.
2. The 90-Day Flipping Rule
The 90-day flipping rule was created to protect new buyers from inflated real estate prices and predatory lending for homes that were not rehabbed with enough "sweat equity" by the previous owner. Depending on your location and the type of buyer and financing they use to purchase your flip house, the 90-day rule can cause significant complications.
The 90 Day Flipping Rule states that buyers who wish to purchase a flipped property cannot do so until 90 days have passed between when the seller purchased the property and when they are reselling it. The date of sale must be at least 90 days after the recording of the investor's deed.
The FHA has temporarily lifted this rule in the past, such as from February 1, 2010, through January 31, 2011. However, there are restrictions that apply regardless of the time period. Much depends on the percentage ratio of the new sales price to the original sales price. Also, the bank may require receipts as proof that substantial work was completed to justify the new sales price.
Other 90-day terms also exist for construction work done on the home. For example, in California, subcontractors has 90 days to file a mechanic's lien for work that the contractor did not pay them for. This includes any materials that were delivered and used by the subcontractors without payment. A buyer could find that such a lien was filed against the home after the home closes escrow, which they are then left to deal with.
3. The Nature of the Foreclosure Auction
Buyers can lose money because of the nature of foreclosure auctions themselves.
For example, previous owners may have filed a lawsuit against the bank claiming the bank foreclosed on them unfairly. A buyer at auction has no way of knowing such a lawsuit exists because it may not have been recorded by the time of the auction. In the end, the lawsuit may be thrown out by the judge, but it might take up to one year and the foreclosure buyer has to hold the property that entire time. After interest and carrying costs are incurred, the buyer may end up losing money on the property.
A solution is to get a Property History Report. All that is needed is the property address to get one. It can provide things like building permit history, loan history, if there were ever any reported fires, etc. Some websites provide this information and even use an algorithm to warn buyers of potential problems such as an old roof that has never been replaced that could lead to leaking. Basically, a Property History Report is an easy and inexpensive way to get more info on a property before the purchase.
Finally, foreclosure auctions are attended by real estate pros who go to them regularly as part of their job. Someone attending for the first time to buy a home is must be aware they are bidding against skilled buyers. Prepare yourself accordingly and don't stray too far into the unknown.
Additional Resources
Learn about How to Get Foreclosure Listings With Minimal Time and Cost in this article >
If you're looking for quick cash financing to close on an auction property check out these hard money lenders by state >
The full text of the guidelines for the 90 Day Flipping Rule can be found in the HUD's Single Family Housing Policy Handbook.
Did you find this useful? If so please share and comment!