Flipping a house successfully depends on many factors, and an important one is location.  Are you investing in one of the best states to flip a house?
Your profit could depend a lot on what state you're in.
Financial website GOBankingRates analyzed data from real estate site Zillow and property data warehouse ATTOM. Using a range of key metrics they determined the top 10 best states for flipping a house.
The data evaluates median house listing price, the average number of days it takes to flip a house, average gross profit on flipping, and average gross return on investment.
The average house listing price, average flipping time, average profit, and average ROI are all considered in making these rankings.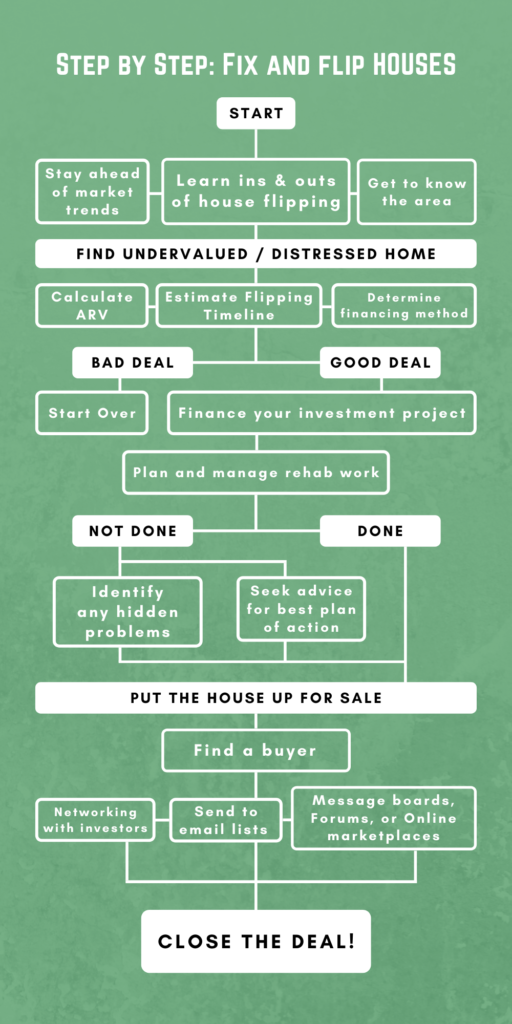 The Top 10 Best States to Flip a House
According to the study, here are the best states to flip a house:
1. Tennessee
2. Pennsylvania
3. New Jersey
4. Louisiana
5. Colorado
6. Maryland
7. Virginia
8. Florida
9. Illinois
10. Kentucky
Among the top 10 states, the average flip time is 180 days, the study notes. Among the bottom 10, it takes 203 days per flip.
Every day counts since if you're borrowing the money to buy the house you flip, that's 23 more days of interest you have to pay on potentially a few hundred thousand dollars.
Your State Isn't the Only Factor
OK, so what if you don't live in one of these top 10 states? The reality is most house flippers do not.
The good thing is the fundamentals of house flipping still apply: find the right house, pay a low price, rehab it (or wholesale it), sell it, and collect the profits.
One of the key things to look for, regardless of location, is transaction speed. In other words, how fast can you buy or sell a house in a particular state? States west of the Mississippi like California and Texas, typically have much less restrictive real estate transaction requirements. For example, you may not need an attorney, whereas in Connecticut both the buyer and seller generally must have an attorney representing them to ensure a valid transaction.
So, even if you don't live in one of the best states to flip a house, this doesn't mean you're out of luck. There are lots of other factors to consider.
Regardless of your location, if you're looking to flip a house, it's best to do your research first. Knowing how to buy and to sell (and where) can help you make the most of your investment.
Learn More
Interested in flipping foreclosed homes? Check out our Flipping a Foreclosed House Guide here >